Miami Vice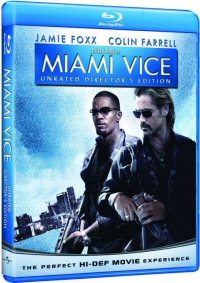 The title
Miami Vice
conjures up memories of the hit TV series from the 1980s, but this 2006 reincarnation is similar in name only. Its slow start develops into a more fast-action pace when a confidential informant contacts Crocket (Colin Farrell) and Tubbs (Jamie Fox) and lets them know that his cover was blown from "the inside." Forced to go undercover as drug and weapons runners, the pair attempt to get close enough to the cartel leader in order to bring him down.
This was my second viewing, and I still found myself scratching my head from time to time with the haphazard storytelling. The pacing in the second and third acts moves at light speed, and the entire premise—to find the inside snitch—was thrown out in favor of concentrating on the love interests of Crocket and Tubbs. Either way, Michael Mann knows how to deliver an action movie, and Miami Vice delivers in spades. Unfortunately, the plot was lost along the way.
Shot with digital cameras, the encode is true to the source with ample noise and grain, as Mann intended. Much like Collateral, Mann wanted a gritty, stylized look with elevated black levels and overcooked whites. The HD DVD release had some instances of severe banding, but the higher bitrate of Blu-ray seems to have cleaned up this issue. Primary colors pop off the screen, and the detail is exquisite. Although some might consider this an ugly-looking film, it fits Mann's vision to a tee.
I wasn't too impressed with the Dolby Digital Plus 5.1 soundtrack on the HD DVD, but the DTS-HD Master Audio track on Blu-ray cures most of its ills. The aggressive mix is highlighted by a tremendous amount of bass, and gunshots are extremely realistic, especially the 50-caliber rifles. Discrete effects fly from speaker to speaker, mainly during the action sequences, and dialog is intelligible, which wasn't the case with the HD DVD release.
With full "U-Control" functionality, you have access to PIP commentaries, tech specs on the cool cars and hot boats, GPS tracking, cast bios, and production photographs—all at your fingertips while viewing the movie. In addition, there are some behind-the-scenes featurettes as well as a conventional commentary with Michael Mann.
I'm not a huge fan of Miami Vice because it isn't a very good film, but the action sequences are extremely well shot, as you would expect from a Michael Mann production. The DTS-HD MA soundtrack is impressive, but the plot leaves something to be desired.
Release Date: August 26, 2008
Film: 6 out of 10
Picture: 8 out of 10
Sound: 9 out of 10

Review System
Source
Panasonic DMP-BD30
Display
JVC DLA-RS1 projector
Stewart FireHawk screen (76.5" wide, 16:9)
Electronics
Pioneer Elite SC-09TX THX Ultra 2 AVR
Belkin PF60 power conditioner
Speakers
M&K S-150s (L, C, R)
M&K SS-150s (LS, RS, SBL, SBR)
SVS PC-Ultra subwoofer
Cables
Monoprice HDMI cables (source to pre/pro)
Best Deal analog-audio cables
PureLink HDC Fiber Optic HDMI Cable System (15 meters) from pre/pro to projector