Meridian G95 DVD A/V Receiver
High-end audio goes green.
There is a link in the public mind between scale and quality, a notion that, if you want something better, you also want something bigger. After all, top-of-the-line surround receivers are expected to have more powerful amplifiers and more features. Bigger speakers come with a tacit implication of better bass response. And who doesn't dream of buying a bigger plasma or LCD?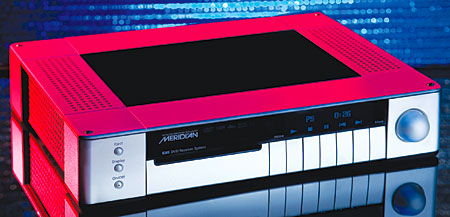 But this notion can be an illusion. Two-channel audiophiles are already hip to this reality, obsessing about 6-watt triode tube amps or new ways to pimp out their iPods with high-end headphones. However, the category of surround receivers has stubbornly conformed to the bigger-is-better idea until now, with Meridian's first surround receiver.
The G95 is smaller than even many budget receivers, at just 3.5 inches tall. That's because it uses Class D amplification, which substitutes smallish digital circuits for the big, power-sucking output stages that most surround receivers use. The amp section uses very little power when idle. That, in turn, makes it more energy-efficient than a conventional receiver, wasting less power in the form of heat. A green surround receiver isn't unprecedented, but the fact that Meridian has made it sound amazing is definitely front-page news.
Meridian further trifles with expectations by building a -Audio and -video drive into the G95. Until now, most DVD receivers have been the toys of the clueless, the people who think they can invest a few hundred dollars in an "in a box" system and get true home theater performance. But here's a DVD receiver for the 21st-century audiophile.
Pleasingly Pale
One of the things that make people high on high-end audio is the build quality, and the G95 has it in spades. It's decked out in a pleasingly pale brushed-aluminum chassis with a black glass top. The contrast with a bulky, basic-black surround receiver couldn't be more striking.
The Class D amplifier is rated at 100 watts times five. I had enough confidence in the amp to connect my Paradigm Reference Studio 20 v4s without a subwoofer, running them full-range. The unit ran warm, but not hot, in an 83-degree room.
Digital and analog circuits receive separate power supplies. Peering through the vent holes in the top, I could see blue LEDs inside. In addition, the well-regarded Faroudja DCDi video processing upconverts the video output to 1080p.
The product's size limits the back-panel real estate, and the connectivity suite is limited as well. There are no HDMI inputs, only one analog component video input (480i only), plus S-video and composite video times three. But there is a solution for HDMI sources—you can add a Meridian HDMAX421 switcher via the receiver's "comms" ports. In terms of 5.1-channel analog jacks, there's an output but no input. Meridian assumes the internal DVD drive will compensate for many of the omissions.
The G95 is a 5.1-channel product with five speaker terminals. It supports standard 5.1 surround formats like Dolby Digital, Dolby Pro Logic II, and DTS—but not Dolby Digital EX, Dolby Pro Logic IIx, or DTS-ES. In a curious decision, Meridian substitutes their Trifield matrix surround processing for the DPLII music mode, although the G95 supports DPLII movie mode. The built-in drive doesn't support Blu-ray or HD DVD discs.
The G95 supports DVD-Audio, resulting from Meridian's longtime involvement with the format, but not SACD. That is a pity because Telarc and Chesky continue to support SACD with streams of new releases, while the music industry has all but abandoned DVD-Audio. The tuner has AM/FM but not satellite radio. Meridian offers an optional iPod dock, but there's no dedicated input for it on the G95.
Not until I began using the G95 did I notice that the DVD drive is the car-style, slot-loading type. Meridian says this high-speed drive provides 10 times better data recovery than a standard drive. It sits to the left of seven large, rectangular multifunction keys that change function according to the context-sensitive labels of the white fluorescent display above them.
Duty-bound though I am to tote up all these details, they're really secondary to the fact that the G95 delivers performance that scrupulously serves any kind of music and mines movie soundtracks for ambiences and effects that are often extraordinary. And it does all this in one handsome little box.
Good Digital vs. Bad Digital
There's good digital and bad digital. The Lang Lang recording of Rachmaninoff's Concerto for Piano and Orchestra No. 2 is in the former category, with smooth string and brass textures and a beautiful spatial rendering that places the pianist slightly in front of the Orchestra of the Mariinsky Theatre. Basses and tympani were reasonably proportionate through the Paradigm's 7-inch woofers. The piano was beautifully limpid, with a rhythmically snappy leading edge fleshed out by a singing tone and well-balanced overtones, all of it rendered with typical Meridian style. All this came through perfectly in the CD version via the Trifield stereo-to-surround mode (the SACD version being unplayable on this system).
Then there's bad digital, and, as an early adopter of the CD format, I have plenty of it in my library. The trombone fanfare that opens Finlandia, the symphonic poem by Sibelius, was suitably menacing. But the sting of the brass section had as much to do with digital quantization error and aliasing distortion as it did with the inherent nature of the instruments. Was this what Meridian's digital amps sounded like? No, they were merely being truthful about the version I was playing—whose shortcomings stemmed from a 1987 vintage EMI CD mastering, not from the 1977 analog recording by Herbert von Karajan and the Berlin Philharmonic. The 1980s were the most unpleasant years in the CD format's history.
While DVD-Audio languishes, I do still have a few gems in my library, and one of them is R.E.M.'s Automatic for the People. The vocal treatment is interesting, favoring the front left and right channels but leaving just enough of Michael Stipe's voice in the center to keep the image from wobbling when you move around. Every element of the high-rez mix benefited from the G95's tireless attention, from the all-channel strings to Peter Buck's scrupulous guitar picking.
The combined impression of all the music demos was one of neutrality and an unerring ability to get the best (and, where it's embedded in the recording, the worst) out of everything. This is the first DVD receiver that's made me want to listen to music incessantly.
4:3 in 5.1
DVD play called attention to a few ergonomic quirks. Mechanical relays inside the player made repeated clicking sounds at the start of each disc as it switched between various soundtracks for the trailers, menu, and main presentation. With the disc-navigation buttons in the middle of the wide, wedge-shaped learning-capable remote, it wasn't possible to thumb-type commands with either hand. The reverse-scan function operated at various speeds with picture, but blanked out before returning to normal motion.
The Good German is an oddity, a black-and-white 4:3 movie with a 5.1-channel Dolby Digital soundtrack. That led to a slight disconnect between its lovingly retro visuals and 21st-century sound, although Thomas Newman's orchestral score was moody and masterful. The G95 celebrated its lushness and beauty. Keeping the often soft-spoken dialogue at the right level required a higher volume setting than that of most amps I've used to drive the Paradigms (which have a rated sensitivity of 87 decibels).
The Meridian G95 is the best implementation of Class D amplification circuitry I've yet experienced in a receiver. Even if you can't afford its towering four-figure price, that's a fact worth noting. It means that the green DVD-receiver has come of age as a product category. For those who want an elegant, high-performing, one-box solution and are willing to pay for what is one of the best in that category—well, here it is. I'd like to review a lot more products like this, so long as they're this good.
Highlights
Receiver and DVD drive in one box
Class D amplification uses power wisely
Typical fine-tuned Meridian sound