The Matrix Reloaded (Blu-ray)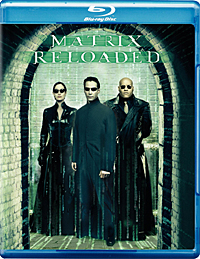 After
The Matrix
had a huge box office and became the first title to sell over 1 million DVDs, the brothers Wachowski and Warner decided it was time to cash in on the franchise and create a trilogy (it's the Hollywood thing to do). The second of the three films debuted on May 15, 2003 and went on to earn over $280 million at the box office.
The first film is a classic due to its impeccably shot action sequences and philosophical dialog. Unfortunately, the second is filled with senseless ramblings from Morpheus (Lawrence Fishburne) although like its predecessor the stunts are fabulous, especially the highway chase scene that runs for over 15 minutes.
Video Highlights

VC-1/1080p encode on a BD-50 disc
Outstanding depth
Intentional green tint
Inky blacks
Revealing shadows
Audio Highlights

Dolby TrueHD 5.1 soundtrack
Active surround channels
Intense LFE
Highway chase is a perfect demo scene
Using the same encode as the previously released box set, The Matrix Reloaded is sure to please fans.
Bonus Materials

In-Movie Experience
Written Introduction by the Wachowski Brothers
2 Commentaries
Behind the Matrix Documentary
Enter The Matrix: The Game Documentary
Six additional documentaries
P.O.D. "Sleeping Awake" music video
Theatrical trailers and TV spots
If you held off buying the box set because you didn't want to be forced into purchasing the disappointing third film in the trilogy, here's your chance. The disc features fabulous audio and video although the story isn't as revolutionary as the first. Recommended for fans.
Release Date: September 7, 2010
Studio: Warner
Movie: 7/10
Picture: 10/10
Sound: 10/10

Review System
Source
Oppo BDP-83 Blu-ray player

Display
JVC DLA-RS1 projector
Stewart FireHawk screen (76.5" wide, 16:9)
Electronics
Onkyo Pro PR-SC885 pre/pro
Anthem PVA-7 power amplifier
Panamax M5400PM power conditioner
Speakers
M&K S-150s (L, C, R)
M&K SS-150s (LS, RS, SBL, SBR)
SVS PC-Ultra subwoofer
Cables
Monoprice HDMI cables (source to pre/pro)
Best Deal analog-audio cables
PureLink HDC Fiber Optic HDMI Cable System (15 meters) from pre/pro to projector

Acoustical treatments from GIK Acoustics
LATEST VIDEO