Marantz VP-11S1 Single-chip DLP Projector
1080p display devices have been proliferating rapidly, and it's been bit of a surprise that DLP front projection, which has led the charge of digital displays for years, has been late to the party. Not anymore.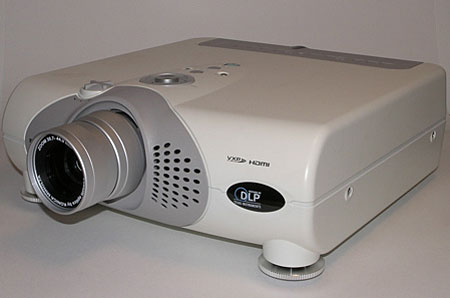 We saw static displays of single-chip 1080p DLPs at CES '06, and we've been expecting to see the first working native 1080p DLP front projectors at CEDIA. But Marantz blew all that away in May when it had their video guru Dan Miller contact me and ask if I'd like to receive the first review unit of their VP-11S1 1080p projector, which is available now at $20K ($23K with the optional long throw lens).
I responded to that question as any sane man would: "Dan, have you still got my shipping address handy?"
From a Long Line
Marantz has been a big fish in the digital front projection pond for years now. The VP-12S3 once won a Golden Eye award at The Perfect Vision based on my review, and at my enthusiastic urging. I recently reviewed the VP-12S4 for UAV and liked it so much I threw down all the scratch I earned writing the review (and then some) to buy the review sample. Fellow UAV scribe Robert Deutsch bought and has lived happily ever after with a VP-12S3. So, Marantz has major street cred in this corner of the world wide web.
In terms of looks, designs and features, the VP-11S1 has much in common with the VP-12S4, along with a few significant departures I'll enumerate. First, and most obvious, the 11S1 looks exactly like the S4 on the outside. The 11S1 will be available in the same black/charcoal finish that my S4 is decked out with, but this review sample was in a cream color that I can't say I like nearly as well. But the bottom line is that I can't tell the difference between the two projectors looking at them.
The 11S1 has two HD-compatible component video inputs, and more importantly, two HDMI inputs. Of course, now that HD DVD and Blu-ray are on the scene we need three HDMI inputs to cover both disc formats and our HD set-top boxes, right? In a really cool touch, a switch turns on a little light in the recessed bay at the projector's back panel so you can eyeball your physical connections in the dark. Smart! Telescopic feet on the front level the rig if it's used on a tabletop.
As with the S4 the top of the projector sports the (manual) vertical lens shift adjustment, plus buttons that allow the user access to all the projector's menus, features and functions, including the projector's built-in test patterns. Complete control. Zoom and focus are also manual, and adjusted on the barrel of the lens. The lens assembly is a high-end job from Konica/Minolta. This has been true of all previous Marantz projectors, and from the beginning right up to the VP-11S1 remains one of this projector line's great strengths.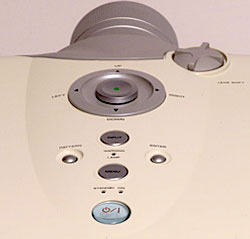 If I'm a bit ambivalent about the new remote Marantz has designed for the VP-11S1 it's only because I liked the more compact one that came with its previous projectors a lot. But if this sounds like a nitpick it's because I can conjure up so few complaints of any kind for this rig. Nevertheless, the new remote is excellent in its own right, and if all remotes were this good I'd be a happy man and reviewer. It's taller and thinner than the old one, has more backlit buttons, and the backlighting is activated by a button on the side that's easy to find in the dark. It also offers direct access to (literally) all the important adjustments.
What Did They Build In There?
Perhaps one of the reasons Marantz got to the market so quickly with this projector is that in the VP-12S4 it basically built a 1080p projector in a 720p projector's clothes. Gennum VXP video processing is used in the VP-11S1 as it was in the S4, but there's now much more processing horsepower available from the newest Gennum chip, the GF9351. Key among its attributes is that it's a 10-bit solution from end to end that performs all processing of 1920x1080 signals at full resolution, with no cross-conversion or down-conversion of any kind. In the VP-12S4 1080i/p signals are converted to 720p only after all of the deinterlacing and processing is completed. With the VP-11S1 1080i and 1080p signals stay at full resolution straight to the DMD.
The VP-11S1 is a single-chip DLP engine with a 6x color wheel. In previous Marantz projectors the image was optically filtered to hit accurate color points, and Marantz's color palette has always struck me as one of the best and most natural I've seen from a digital display. They had a cool acronym for their filtering system too, which was ORCA, for Optically Reproducing Color Accurately." The ORCA filter has now been designed into new, customized filters in the color wheel itself, which according to Marantz further improves filter accuracy.
Marantz has also moderated the projector's light output, changing its f5 iris setting to a more aggressive f6 (the more open f3 setting is retained as well and subjectively seems to have a little more horsepower).
The balance of light output, blacks and contrast ratio, as you'll read, are right in line with Marantz's previous efforts, which is to say simply excellent. However, I should point out that I use an 80-inch wide screen. While this projector clearly has the pixel count to allow for bigger screens, the light output would make me hesitant to recommend them. This doesn't bother me, because even in my 24.5' x 17.5' room an 80-inch screen is a perfect combination of size and punch. But while there are many factors that go into making a great picture, light output is a very important one (within reason—the light output in the best movie houses generally ranges between 12 and 16 foot-Lamberts). It is determined not only by the capability of the projector but also by the size and gain of the screen. All projector reviews are powerfully influenced by the characteristics of the screen, and you should never assume that the results described in a review would apply directly to a much larger one.
The VP-11S1 has the same broad set of memories and adjustments, as the VP-12S4 so I'll refer you to that review to run down the basic functions and features of this projector. The adjustment and memories offer more options than anyone is likely to ever need, and yet because the menus aren't jammed up with superfluous features billed as "enhancements" that actually degrade image quality, it's a simple pleasure in day-to-day usage. Some minor differences include much smaller increments and therefore finer adjustments on many of the controls, including contrast and brightness, which is a big plus.
Another small and welcome change is that the "Standard" gamma curve is actually 2.2, according to Marantz, which is as much of a standard as exists with gamma. This calmed down some of the higher key mid-scale brightness levels that I noticed with the gamma curve in the VP-12S4 and TJN verified in his measurements. I liked the gamma curve on this projector better and hope Marantz offers a firmware update that allows me to duplicate it on my VP-12S4.
One oddity, perhaps confined to this pre-production sample is that to see information encoded below black via HDMI I had to set the Black level menu setting to "Expand." This isn't the case with the VP-12S4. I can't say that I saw any effect either way.
I made the point earlier of calling this a native 1080p projector, and that's a reference to that fact that all of the 1080p rear projectors I'm aware of derive 1920x1080 on the screen by performing fast horizontal pixel shifting with a 960x1080 chip. This technique is often called "Wobulation," which is actually an HP trademark. Texas Instruments calls it Smooth Picture. We've certainly seen excellent results from such RPTVs, but there's no such sleight of hand here. The VP-11S1's Digital Micromirror Device has a full 1920x1080 pixel matrix.
Performance
I used the VP-11S1 mostly via HDMI with Toshiba's HD-XA1 HD DVD player and my DirecTV HD TiVo as sources, except where noted.
Although the unit I received was technically a pre-production sample, with two exceptions it seemed like someone simply slipped a VP-12S4 in my system that had more pixels and a few other updates. Operationally this projector was just a slick and glitch-free as my reference S4. I'll knock the exceptions out now and get back to the accolades.