Marantz SR-7000 A/V Receiver
The receiver that shagged me.
The details surrounding my technical background are really quite inconsequential. Summers in retail, winters in correctional facilities for the perfectly capable. Desperate for the dollar, I'd often drug customers and dress them up like French maids. When they'd awaken, my friends and I would thank them for shaving our backs and assure them we wouldn't tell anybody. This was the sort of activity that would keep food on the table and our young bodies healthy for the beach. In the springtime, we'd make capacitor helmets with heatsinks on them. Then, we'd test each other's knowledge of schematics while running downhill. It was really quite breathtaking . . . you should try it sometime.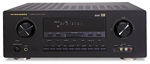 At 21, I left home in search of a career and a hamburger. I wandered into a school somewhere. I liked it there. I was regularly mistreated and spoken down to for being insolent. It was just like home, only it cost more. Inevitably, I found the career, but I still search for the burger . . . .
Now, as the editor of three A/V (short for audio/video, baby) magazines, I search for the perfect receiver. It was on the evening of December 13, 1999, that a suspicious package arrived at my flat. I suspected something was up when the label read: From Bazzel-X (aka Marantz). Using my keen instincts and a utility knife, I carefully opened the package. Inside, there appeared to be a normal A/V receiver. I paid it no mind until...wait, a trick . . . Dr. Evil must have been behind this! You ask how I know? What other person would claim that a receiver costing only $799 could be capable of features like 100 watts by five channels of discrete power output into 8 ohms, 24-bit/96-kilohertz digital-to-analog converters for the highest possible sound fidelity for DVD audio playback, multiroom/multisource capability, onscreen programming, and Dolby Digital, DTS, Pro Logic, five-channel stereo, and other surround modes? What if I told you it also had six-channel direct inputs for future format upgrades, preamp outputs, a D-Bus remote connection, 50 station presets for AM/FM listening, six video and S-video inputs, a total of five digital inputs (two Toslink, three coaxial), two digital outputs (one of each type), and a very groovy universal/ learning remote? Honestly, would you believe me? Anyone who'd make such claims would certainly have to be mad.
The Marantz SR-7000 manages to tuck all of these features (and more) into a sleek chassis measuring 18 by 6 1/4 by 18 1/8 inches and weighing a stout 32 pounds. Clearly, there's no Swedish-made, pump-style receiver enlarger needed here. (That's not my bag, anyway.)
The SR-7000 offers outstanding flexibility for virtually any system one could think up. The multiroom/multisource alone makes it possible to connect an additional A/V system in any room of the house, such as a bedroom or game room. This can be done in several ways, one of which is to add a five-channel amp in the desired room. Multisource capability then allows you to listen to a CD player in one room while people in another room are viewing a movie in full 5.1 surround! Of course, the possibilities don't stop there. If you really want to go nuts, you can use this receiver as the center of a multiroom audio/video system in which every zone in your home has sound. Very groovy, baby.
For our testing purposes, I installed the SR-7000 in my personal home theater and connected it to my DSS receiver, DVD player, LD player, VCR, CD player, MiniDisc player, tape deck, and Sega gaming system. Although the unit was easy enough to set up without referring to the owner's manual, the instruction manual is extremely complete and even has a quick-connect foldout to make installation a snap for the novice.
Using the onscreen programming guide, I was quickly able to navigate my way through the various setup options, including assigning inputs, individual speaker levels, speaker size, and other room corrections.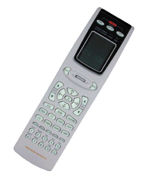 I found the remote, in particular, to be very sexy and easy to use. I'd rate it among the top three remotes packaged with a receiver that I've ever used. Not only is it comfortable to hold, it's also very easy to set up. The various-shaped buttons make it even easier to use when the lights are out. Oh behave!
But enough chat—let's see how she performs. Marantz's slogan is "Because Music Matters," so I decided I'd first give the SR-7000 a two-channel audio workout. I removed my personal collection of Burt Bacharach CDs from the "Shaguar" and dug deeply into my repertoire to see what would tickle my fancy. Alas, nothing did, so I looked elsewhere. I finally inserted my first selection—a special recording of the Eagles' "Hotel California" seemed to fill the bill.
I connected the SR-7000 to my Mirage HDT speaker ensemble. This receiver uses UL-approved collars that will accept either banana plugs (the optimum connection) or bare wire—they won't accept spades. The Mirage HDT speakers are known for their awesome detail on music, but they demand the use of very powerful amplifiers to make them come alive. I anticipated that I'd have to switch them out with another set of speakers, but (to my surprise) the Marantz SR-7000 was able to make them open up with exceptional clarity and detail. Even at lower volume levels, with no enhanced settings, the receiver pushed the speakers effortlessly. The bass was very tight, and the vocals were very smooth.