Marantz DV8300 Universal DVD/SACD Player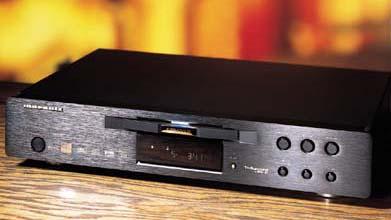 Photos by Tony Cordoza
Back in the Stone Age of Digital Audio (circa 1990), discerning audiophiles paid big bucks for elegant-looking CD players. Today the emphasis is on performance rather than looks. Most DVD players are visually boring, and their lack of heft hardly inspires confidence. Sometimes I yearn for the days when a player's quality could literally be weighed.
At least outwardly, the Marantz DV8300 is a return to those days. Its black, brushed-metal faceplate and 14-pound weight suggest a solidity that has largely vanished from today's digital-disc players. But this isn't your father's CD player. It's one of an entirely new breed of "universal" machines that play an array of discs, including DVD-Audio, DVD-Video, stereo and multichannel Super Audio CD, CD-R/RW, and DVD-R/RW. The DV8300 even plays MP3 discs and provides onboard multichannel Dolby Digital/DTS decoding. One of the many logos that adorn the player's faceplate is the THX Select emblem, which certifies that it meets certain technical and performance specifications for video playback. While that logo and most of the others are simply printed on, the SACD logo is proudly displayed on a raised gold-colored metal badge, suggesting a focus on Marantz's audio heritage. The words "Super Audio CD" are also spelled out on the disc drawer.
Fast Facts
KEY FEATURES • Plays DVD-Audio and DVD-Video discs, Super Audio CDs, DVD-R/RWs, CD-R/RWs, CDs with MP3 files • THX Select-certified • Progressive-scan output with 2:3 pulldown processing • Dolby Digital/DTS decoder • SRS TruSurround virtual surround processing

OUTPUTS S-video, component video (interlaced and progressive), two composite video; coaxial and optical digital audio; multichannel analog studio (two pairs of front L/R outputs); system remote-control in/out

DIMENSIONS 17 3/8 inches wide, 3 1/2 inches high, 12 inches deep

WEIGHT 13 3/4 pounds

PRICE $1,599
The gold-colored remote Marantz provides is nicely laid out, featuring a narrow waistline that makes it easy to hold and eleven glow-in-the-dark buttons. In addition to a suite of standard rear-panel connections, there are two control jacks to interconnect the player with other Marantz components. I connected the DV8300's component-video output to my TV and both its optical digital and multichannel analog audio outputs to my receiver. First I worked through various basic setup options such as TV aspect ratio, stereo or multichannel audio output, center speaker present (or not), surrounds present (or not), subwoofer present (or not), and digital audio output mode. An "expert" setup menu provides another layer of customization. For example, you can select either stereo or multichannel playback of hybrid SACDs. I also set speaker sizes for the multichannel analog output (otherwise known as bass management): the front left/right speakers are fixed at a "large" setting; the center and surrounds can be set to "large," "small," or off (the L/R surrounds automatically assume the same setting); the subwoofer can be set on or off. These settings apply to SACD playback as well as DVD-Video but not to multichannel DVD-Audio discs. Although many owners of this high-end player will have full-range front speakers that can handle deep bass, I was disappointed that the player doesn't give you a choice.
| | |
| --- | --- |
| | |
| | |
Following menu prompts, I also entered the distances of my speakers from my listening position so that the player could use digital delays to compensate for differences and ensure that sound from each channel reached my ears at the same time. Unfortunately, these settings don't apply to SACD playback. Finally, I set the channel levels. Adjustments can be made over a ±6-dB range in 0.5-dB steps, and there's a built-in test tone to help you get the levels right.I also checked out the video settings. I selected progressive-scan output and also enabled a feature that let me perform frame-accurate searching of DVD-Video discs-I could enter a time and frame number to find any frame I wished. Neat. The player also lets you select among three picture-quality presets. Alternatively, you can create and save your own settings for a variety of video parameters including sharpness, detail, white level (contrast), black level (brightness), setup level, gamma, hue, chroma level, and chroma delay. Moreover, there are various noise-reduction controls (mosquito, block, luminance, and chrominance) that let you smooth out noisy images in older films or poor DVD transfers. This player takes image quality seriously.The DV8300 provides frame-by-frame advance or backup, the ability to create playlists, and bookmarking for up to five DVDs. The player can also memorize preferences like video adjustments and parental-lock levels for up to 15 discs. In addition, you can create a shortcut menu of up to five frequently used setup items, rather than churn through the entire list when you want to change a setting. While some players simply play MP3 tracks, this one lets you search for folders or tracks by number, supports forward and backward scanning as well as random and repeat play, and even program play-this is terrific MP3 playback functionality. Familiarization and setup completed, I turned my attention to the real task at hand-eating cheese nachos while watching movies and listening to music. I started my audition with a DVD-Audio disc I've grown quite fond of,
Ziroq
, performed by a group of the same name. The energetic beat of this world music really gets my feet tapping. The six-channel mix is enveloping but not distracting, and the recorded sound quality is superb. "
Prisionero
" begins dramatically with solo classical guitar, then adds hand claps that alternate across the front panorama. Marcus Nand adds lead vocals, joined by violin, electric guitar, and percussion. The violin's sweet sound is absolutely ethereal, and the interplay between the acoustic guitar and violin exciting. This musically complex recording sounded fantastic on the DV8300.
Breakdown
HIGH POINTS • Plays DVD and SACD. • Comprehensive video adjustments. • Full-feature MP3 playback. • Exceptional audio/video performance. • Classic styling. LOW POINTS • No bass management for DVD-Audio. • Above average price. • No headphone jack.
Inspired by Ziroq's sweet violin (and viola) parts, I wondered how cello would sound on an SACD, so I put on Yo-Yo Ma's
Solo
. In particular, I listened to Alexander Tcherepnin's
Suite for
Solo Cello
, which combines Western music with Chinese influences, resulting in a unique style. A stereo recording of a single instrument let me focus on the essential qualities of good playback-low noise and distortion, minimal coloration, and realistic ambience. All of those qualities were present in this Direct Stream Digital (DSD) recording (the system used for SACD) as reproduced by the Marantz DV8300. Many listeners wouldn't be able to tell the difference between Mr. Ma playing live and this recording of him if they were pulled into the room blindfolded. It's that good.Even if high-quality music playback is the most important criterion for you, you might occasionally watch a movie or two on this player. So I pulled out
The Patriot
DVD. Try as he might, Mel Gibson can't rescue this film from its historical inaccuracies. But details in the opening scene, like the leaves of crops on a plantation, and the lattice work of a rocking chair all looked clean and free of artifacts. The battle scenes were a sight to behold, and the vivid colors looked magnificent on my widescreen HDTV monitor.The soundtrack supplies a steady stream of sounds whizzing across the field, making you keep your head low as lead shot flies past. The sonic reproduction using the player's onboard Dolby Digital processor was, in a word, excellent.The only thing better than the Marantz DV8300's elegant styling is its superb audio/video performance. Whatever kind of optical-disc playback most concerns you, this player will deliver. It upholds Marantz's long-standing tradition of high-end playback quality, and it is truly one of the best in its class.
---
Check it out:
In the Lab
---