The Man Who Would Be King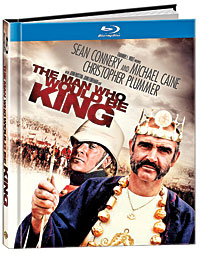 John Huston's The Man Who Would Be King is one of those great films the likes of which "they don't make anymore" (and, in fact, they rarely did), a grand tale of adventure and greed set against the great outdoors and the judgment of Nature. It's based on Rudyard Kipling's novel, but in many ways, it's a throwback to The Treasure of the Sierra Madre, which Huston also directed, nearly 30 years earlier. This movie's prospectors are former soldiers in Britain's colonial army, seeking power and fortune by conquering tribal warlords in the mountains of Afghanistan, rather than American ne'er-do-wells panning for gold in the foothills of Mexico. But the outcome is the same: Our (anti-) heroes win everything then lose it all through avarice and arrogance. In Treasure, they dig up more gold than they can carry (or their capacity for mutual trust can endure); in King, they stumble into a cavern of riches, but one of them starts believing he really is a god (as they've tricked the natives into thinking), until the act is exposed.
This is one of Huston's later films, and he was clearly still a master at capturing both the sweep of an enchanting but hostile landscape and the intimacy of friendship—and doing so with a fine sense of the epic and the absurdly comic. Huston had been trying to make this movie for a couple of decades. His initial idea was to cast Clark Gable and Humphrey Bogart as the imperial looters. It's doubtful that they could have played the parts as brilliantly as Sean Connery and Michael Caine. Neither actor, before or since, has been at once as convincing, playful, and, in a strange way, touching. Huston treats their characters, awful and self-destructive as they are, with honest fondness and pity.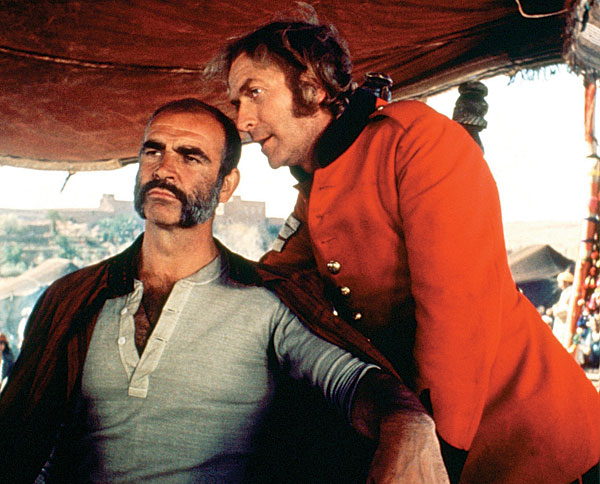 The 1080p transfer is uneven, like many digital renditions of films from the mid-'70s. Some scenes are soft-focused, a few are jittery, yet many are gorgeous. The kaleidoscope of colors in the Indian marketplace, the dust and cigarette smoke wafting through train cars and colonial offices—these sorts of shots are particularly evocative. No scenes look bad, and even at its worst, the Blu-ray looks much better than the earlier DVD transfers. The mono sound isn't better than adequate, however, and the special features—a trailer and a hokey making-of documentary shot in 4:3 SD—are spotty. The film deserves a full-blown restoration. Meanwhile, here's a digital disc of it worth owning. 
Fred Kaplan
Ratings
Picture: 3.5
Sound: 2.5
Extras: 1.5
Interactivity: 0
Specs
Studio: Warner, 1975
Aspect Ratio: 2.40:1
Audio Format: 
DTS-HD Master Audio 1.0
Length: 129 mins.
MPAA Rating: PG
Director: John Huston
Starring: Sean Connery, Michael Caine, Christopher Plummer