Madagascar 3: Europe's Most Wanted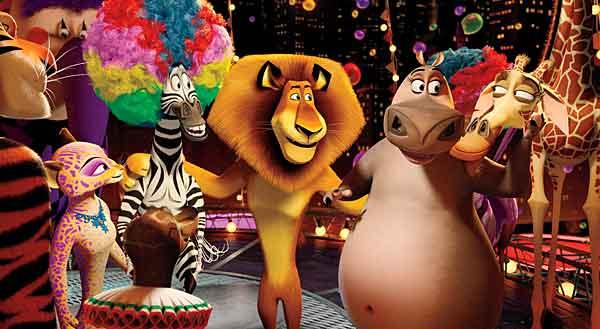 But before long, the gang is on the run from an overzealous animal control officer, and their only hope is to run away with a down-and-out circus. An entertainment scout is looking to bring the show to the States, which would make everyone's dreams come true, and so the newcomers need to make sure the upcoming London gig is one nobody will forget. Honestly, this third installment might be the best yet, full as it is of wit, action, and heart. The lead actors are all dialed into their characters by this point, yielding a host of understated humor to entertain the grown-ups as well as the kids.
Production values are also incredibly high, as the 16:9 disc boasts an eye-popping clarity. Blades of grass and strands of fur are razor sharp, while some long shots flirt with photorealism. The bold use of color is also extraordinary throughout. The 3D effect is used aggressively, with many scenes obviously, dynamically designed with three dimensions in mind. Quick bits like fireworks, flying fish, or projectile bananas are undeniably fun, but even a single character like Melman the giraffe is sometimes rendered with a striking depth that conveys his drastic scale. This really is some of the best 3D animation I've seen yet.
Crowds, elaborate environments, and over-the-top chases are some of the reasons the Dolby TrueHD 7.1 soundtrack is so darned busy behind us. The audio here is graced by a pronounced directionality across the multichannel soundstage, in addition to discrete cues in different speakers. Despite various accents, dialogue is always perfectly legible.
On the 2D disc two, directors Eric Darnell, Conrad Vernon, and Tom McGrath provide audio commentary, much of which seems to have been repurposed from their PIP video commentary. There's also a set-top game, a trivia track, a trio of rough-quality deleted scenes, plus assorted featurettes that introduce us to the cast and crew. The DVD of the movie includes many of these same extras, as well as some ROM content. The multi-format set also includes a Digital Copy.
Blu-Ray 3D
Studio: Paramount, 2012
Aspect Ratio: 1.78:1
Audio Format: Dolby TrueHD Master Audio 7.1
Length: 93 mins.
MPAA Rating: PG
Director: Eric Darnell, Conrad Vernon, and Tom McGrath
Starring: Ben Stiller, Chris Rock, Jada Pinkett Smith
Escaped from the Central Park Zoo, four animal friends were "rescued" and sent back to the wild, a humanitarian effort that turned into a whirlwind global adventure. The quartet has been on the savanna since the end of Madagascar: Escape 2 Africa, but lion Alex (Ben Stiller) still misses the zoo and so with his zebra, hippo, and giraffe chums, he's off to collect the penguin master- minds from the birds' Monte Carlo excursion and figure out a way home.