Luxury Tech Show Los Angeles 2016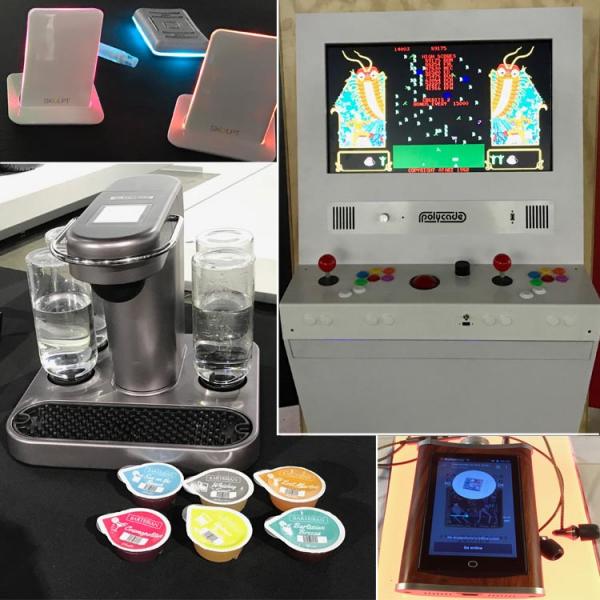 The city of Los Angeles is no stranger to opulence, so an event such as the Luxury Tech Show feels as natural here as spotting Lady Gaga at Chateau Marmont. The annual event has showcased upcoming trends like smartwatches, 3D printers, and the now infamous hoverboard. So what will we call crazy today and want tomorrow? I braved the 405 traffic to the Petersen Museum just so I could tell you all about it.
First up: a Keurig for Booze!
Just off a successful crowd-funding campaign, the Bartesian promises luxury cocktails on demand. If you have ever used coffee pods to make your morning cup of caffeine, you'll get the concept immediately. Simply select a pre-mixed cup filled with all the juices, herbs, etc necessary and plunk it into the machine. The Bartesian scans the barcode on the foil top and mixes in the vodka, gin, rum, or tequila (which you provide.) The barcode tells the machine from which of the 4 glass bottles to draw the precise amount of liquor to draw, and voila! Out pours your mixed cocktail.
The Bartesian itself is pre-selling for $300, and the mixer cups will sell in packs of 12 for $20. As of now, the Bartesian only knows how to make 6 drink varieties, but after the pre-release, and if the idea takes off, that's bound to change. I heard mixed reviews of the concept. Like coffee purists, mixologist fans might see the idea as one person I spoke with, saying, "thank you for making my party feel like a sad Monday at the office." But a lot of businessmen and single people loved the idea of an instant cocktail at the end of the day with no muddling required. It's for that reason, I have a feeling the Bartesian will be be tending bar in many homes rather soon.
Speaking of Booze, a Flask-esque Audio Player
Let's get this out of the way: the Echo-Box Explorer looks like a flask. Carved from a single piece of wood, the surprisingly lightweight chassis has a touch screen and a turn wheel that looks like the flask's cap. Cute design aside, the Echo Box is a nice little portable player. 64 Gigs of memory, and micro SD slot hold all the music you care to play through the Texas Instruments PCM1792 DAC which Supports PCM formats up to 24/192 and DSD.
The Explorer has a 3.5mm jack and coaxial line out with a claimed resistance of < 1 ohm and 300mW peak output. But what makes this player special is the WiFi and Bluetooth capabilities. Stream high resolution music from Tidal, or broadcast your playlist through an external BT speaker. The added versatility of the Explorer, plus the nifty design, available in mahogany, ebony, zebrawood, or maple make this $599.99 player a fantastic gift for the audiophile in your life. (Or, you know, yourself.)
Track Your Actual Fitness
Nearly every tech fan and their mom has a fitness tracker these days. Recording steps, flights of stairs, and heart rate can tell what your workout was, but they don't really track your results. That's where Skulpt comes in. An iPhone-sized device, Skulpt measures the fat and muscle on your body in specific areas (bicep, quad, etc) and tracks your improvement. Simply wet the conductors, place it on the muscle group in question, and Skulpt transmits the information to your mobile device via their free app. Based on the data, Skulpt can make suggestions for your specific physical needs.
Why does this matter? Frankly, because most methods of measuring your body fat require help (calipers), are a pain to find (dunk test) or inaccurate (scale). Skulpt claims that with their device you can better see your progress as fat becomes muscle. Is it necessary? Hardly; but for those who find motivation in progress, perhaps knowing that their muscle tone is improving in small ways week by week will be enough to keep the fire in their reps.
Ready Player One
Any kid who grew up in the 70s or 80s dreamed of having an arcade in their home. An actual, stand-up-to-play, joystick-having, button-mashing, physical box. But even those who are lucky enough to be able to afford one often find it's hard to find the space to place it. This is why the idea of Polycade excites me so.
Polycade is a wall-mounted arcade interface that not only comes with games loaded, but also works with Steam and emulators so you can constantly update and add both new and classic games. The standard edition comes loaded with a AMD Quad core FX-4300 CPU, Geforce 750 TI Graphics card, a 320 Gig hard drive, and an 8 Gig DDR3 memory. But there are editions for hard core gamers who already have their own gaming rig, or those who want every bell and whistle possible, including XBox and Playstation compatibility.
Prices for the Polycade range from $2,300 to $3,100. Is it a pricey novelty? Absolutely. But for pure nostalgia alone, it's worth the cash if you have it to spend. I sure as heck want one. In fact, if I had my way, I'd take one of everything.