Luciano Pavarotti: 1935–2007
Today's death of Luciano Pavarotti means that, in the same year, the opera world has seen the passing of both the self-promoted "King of the High C's" and the endearingly nicknamed "Bubbles" - Beverly Sills, who died on July 2. This comes after the film world losing both Ingmar Bergman and Michelangelo Antonioni on the same day, July 30.
And what can we say about Pavarotti?
"In his prime one of the greatest lyric tenors in history, he devoted the later years of his career to being merely one of the most popular and ended up almost a pariah."
Say what?
That's Ted Libbey in his book The NPR Listener's Encyclopedia of Classical Music (Workman). Longtime audio-industry readers will recall Libbey as not only an occasional contributor to Sound & Vision and its predecessor, Stereo Review, but also the classical music editor of High Fidelity in that magazine's final years. And if you feel that printing that quote above amounts to speaking ill of the dead, well, you are hereby directed to Bernard Holland's obit on Pavarotti in The New York Times, which is similarly (and admirably) clear-eyed.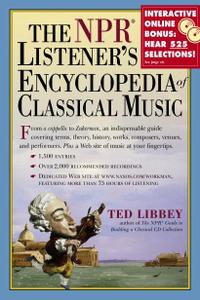 In his Encyclopedia, Libbey also wrote: "If Pavarotti is remembered kindly, it will be for the warmth, charisma, and distinctive expression that characterized the singing of his early career - especially in roles such as Rodolfo in La Bohème and Nemorino in L'Elisir d'Amore - and not for the avarice and professional sloth that marked his later years."
Again, for more on those later years, see the Times obit. Personally, I don't think there's anything wrong with telling the whole story of a person's life on the occasion of his death. And in all fairness, both Libbey and Holland do emphasize that Pavarotti was indeed one of the greatest lyric tenors in history - as well as a great popularizer of opera. And as Pavarotti himself said, quoted at the end of the obit: "I think an important quality that I have is that if you turn on the radio and hear somebody sing, you know it's me. You don't confuse my voice with another voice."
By all means, check out Libbey's encyclopedia - which has an online counterpart via Naxos, giving specific music examples of entries in the book. Libbey, currently the director of media arts for the National Endowment of the Arts, is also the author of a related book, The NPR Guide to Building a Classical CD Collection (also Workman).
-Ken Richardson
LATEST VIDEO