Love & Mercy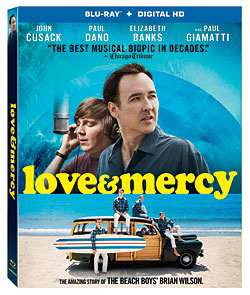 According to the illuminating, full-length commentary by director Bill Pohlad and co-writer Oren Moverman, Wilson is such an "analog guy" that the movie was shot on film stock, much of which—including the documentary-style recording studio scenes of Wilson—is 16mm. Video is purposely given a dated feel, from the grainy, saturated credit sequences of Beach Boys performances to the muted, sterile scenes of Wilson alone in his bedroom. Image quality is therefore a moving target, changing from scene to scene to fulfill the director's intent, which makes it difficult to critique. That said, fine details of hair, skin, and clothing are sharply rendered. Although earth tones predominate, colors pop with excellent dynamic clarity. Blacks feature stunning gradation with fine shadow detail, while whites, though occasionally crushed, offer good depth and are rarely washed out. This digital transfer suffers no noticeable edge enhancement.
Sound, on the other hand, is at once consistent and consistently superb. Given its musical focus, Beach Boys tunes and Atticus Ross' clever soundtrack are ravishingly resolved. Particularly impressive were several scenes that chronicle our hero's descent into madness. Dynamics are sharp and impactful, while trebles are extended with textbook-perfect transient attack. Just as impressive is the description of three-dimensional space. Even the softest sounds are complex and richly detailed, while dialogue clarity is unimpeachable.
Along with the commentary, extras include an engaging making-of documentary. Indispensible for its biographical brilliance, Love & Mercy is essential viewing for pop-culture historians and music lovers alike… not to mention movie lovers.
Blu-Ray
Studio: Lionsgate, 2015
Aspect Ratio: 1.78:1
Audio Format: DTS-HD Master Audio 5.1
Length: 122 mins.
MPAA Rating: PG-13
Director: Bill Pohlad
Starring: John Cusack, Paul Dano, Elizabeth Banks
A year before The Beatles released Sgt. Pepper, Brian Wilson had completed "Good Vibrations," the first pop song with orchestral backing and the most expensive single ever produced. By then, its genius composer had begun his descent into madness, which, by the 1970s, would find him bedridden for several years before being placed under the care of Dr. Eugene Landy (Paul Giamatti). Astonishingly accurate to its finest detail, Love & Mercy, which flashes between Wilson, "Rock Star" prodigy of the mid-'60s (Paul Dano) and "Rock Bottom" burnout of the late '80s (John Cusak), is compelling on historical, musical, and emotional levels.
LATEST VIDEO