The Lorax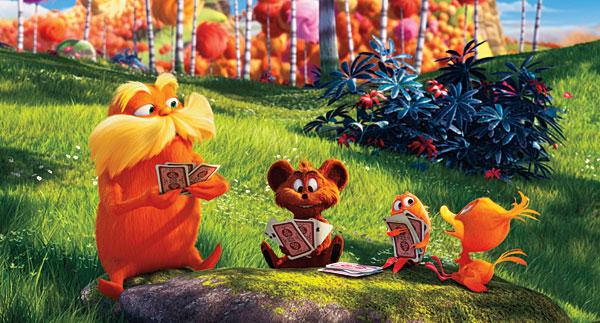 A number of Dr. Seuss' books have been adapted to the big screen over the years with mixed success. Unfortunately, adapting the 45-page book into an 87-minute feature film was a bit much for screenwriters Ken Daurio and Cinco Paul, as evidenced by its poor character development, a bloated subplot, and bizarre musical numbers. Despite its flaws, the second act is mostly entertaining as we learn how the Truffula forest was decimated, but it falls apart in the third act while Ted battles with Aloysius to save the last Truffula seed.
Thankfully, the presentation is flawless in turning Dr. Seuss' Thneedville into a 3D wonderland with outstanding depth and detail. Rich colors burst off the screen throughout the town, and when venturing into the past with the Once-ler, the Truffula forest is drenched with eye-catching views, inky blacks, and vivid contrast. Not to be outshined is the enveloping DTS-HD soundtrack that fills the room with plenty of energy. Like most animated titles, the sound design is quite aggressive and features a plethora of discrete effects and ample low-end punch that almost makes the screenplay tolerable.
The supplemental package includes an audio commentary, three mini-movies the kids will certainly enjoy, a couple of making-of featurettes, deleted scenes, three games, and a cumbersome interactive tour of Thneedville and the Truffula Valley. There's also a 2D Blu-ray Disc, DVD, and Digital Copy (both UltraViolet and iTunes compatible).
My teenage kids probably would have liked this film if they were younger, but no one in the family particularly enjoyed it. While The Lorax looks and sounds great on Blu-ray 3D, it's all style and very little substance.
Blu-Ray 3D
Studio: Universal, 2012
Aspect Ratio: 1.85:1
Audio Format: DTS-HD Master Audio 5.1
Length: 87 mins.
MPAA Rating: PG
Director: Chris Renaud, Kayle Balda
Starring: Danny DeVito, Zac Efron, Taylor
Looking to impress the girl of his dreams by finding her a real-life Truffula tree, Ted Wiggins follows the advice of his grandmother and ventures outside the walls of Thneedville in search of the Once-ler. At first, the reclusive old man wants nothing to do with the teenage boy, but he eventually tells his story of how greed and ignorance led to the destruction of the Truffula forest and how he should have listened to the warnings of the mystical Lorax—the protector of the trees. Looking for a chance at redemption, the Once-ler put his faith in the teenager to correct the errors of his ways, although the ruthless Aloysius O'Hare will stop at nothing to deter the young lad from fulfilling his destiny to restore the trees and get the girl.