Logitech Harmony Link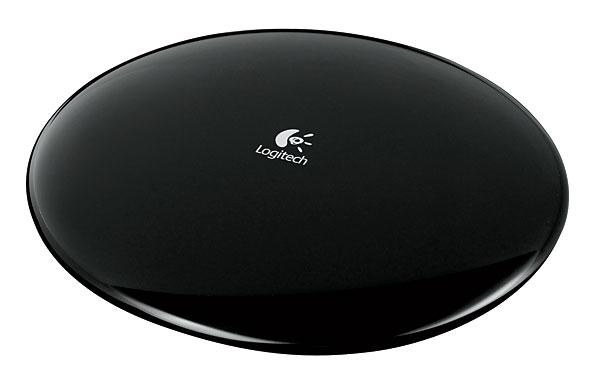 Price
: $99
At A Glance
: Control A/V gear from an iOS device or Android smartphones • Access to Logitech Harmony's vast database of IR codes • Simplified setup of complex macro commands • Exclusive iPad feature offers logo-based TV guide
There are plenty of universal remotes to choose from, but my favorite has always been the Harmony line of remotes from Logitech. Their seamless integration with an online database offers fast and simple end-user programming. Knowing this, I was really looking forward to reviewing the Harmony Link, which provides the same simple programming as all other Harmony remotes. The big difference: Instead of programming an actual remote, the Harmony Link accesses your home Wi-Fi network to allow control of your A/V gear with an iOS device (iPhone, iPad, or iPod touch running iOS 4.0 or later) or Android smartphone (running OS 2.0 to 2.3.4; not tablets, yet).
Setup
If you have a computer and Internet access, setting up the Harmony Link should only take about 10 to 20 minutes. Large systems with more source components could take longer; the Link handles up to eight components total, including your display. The apps for your control devices are free and you can download them from the respective app store. However, the Harmony Link is the hardware counterpart that links the app to your network and fires off the IR codes to operate your gear.
Once you connect the Harmony Link to your computer via USB, you will create an account at MyHarmony.com. You'll be asked the make and model of your components. Every device I entered was already in the expansive Harmony database, which has codes for approximately 225,000 devices acquired over eight years. Next, you're asked if you want to control the volume from your TV or sound system, and you'll set up one-touch Activities such as Watch TV, Listen to Music, and Play Games. There are some predefined labels, but they're customizable, and you can create any number of your own Activities. When I was setting up my Activities, the wizard recommended which components to include, and it was right every time. This reduced setup time to nearly zero. Finally, you're asked which inputs you use on your TV and sound system for each device.
The next step is where setup departs from the other Harmony remotes. You'll need to sync your mobile device with the Harmony Link before disconnecting it from your computer and set it up where its internal IR blaster or the included external blaster can communicate with your equipment by line of sight. If you have a choice of control devices, an iPad is preferred. Its app is the only one that provides a logo-based, local TV guide for your specific cable, satellite, or broadcast television service, which you enter when you first sync your iPad to the Harmony Link. You can scan through the logos and pick channels this way, or the app lets you browse TV shows available to watch right then and prioritize these based on your defined favorite or most-recently watched channels. There are also predefined genres you can choose to make the search faster, such as Movies or Sports, and you can skip to any hour of programming to see what is coming on later, although you can't set your DVR from this menu. You can, however, set your DVR for future airings from the regular grid guide on your set-top box, simply by using the app to navigate through the guide and set your recordings the way you would with any remote.
Performance
Once you're synced, there's a slide-out virtual panel that lives on the right side of the iPad screen. When it first appears, it's just a strip with the Harmony Link logo (which opens a drop-down menu where you choose Activities and turn the A/V system on/off), along with channel and volume controls. If you want more access, flick the panel to the left and it extends, revealing navigation keys, a numeral keypad, and more. While the layout is different than your typical remote's, most of the same functions are available.
If you're watching a Blu-ray or media player, the panel will then control that device. Control is fluid and intuitive, and while the interface doesn't change much from device to device, how it functions does, depending on the device being used.
I downloaded the app for the iPhone, and it provides many of the same features, except for the TV guide. However, screen real estate is much smaller, and although the graphic interface is just as intuitive as the iPad's, it isn't as compelling.
Despite its cool features and interface, the Harmony Link isn't quite for everybody. Its ability to control only eight devices will be limiting for some, although the Logitech product manager I spoke with said the Link is marketed squarely at the average user, not a power user with a highly complex system. Moreover, the Harmony Link doesn't allow for page or button customization like more advanced controllers.
Additionally, you must have a computer with Internet access for at least the setup. Other universal remote manufacturers (hardware or app-based) like to point out that their products don't need a computer for setup. However, the Harmony Link is so slick, fast, and simple, I have to recommend this minor inconvenience over the extra time you'll spend programming PC-less controllers.
Something to be aware of, however, is that unlike traditional Harmony remotes, which need an Internet connection only for programming, it's not clear if the Harmony Link may require a live Internet connection at other times. Some users reportedly awoke the day before the Super Bowl to find their Link temporarily disabled due to a Harmony server problem, suggesting that the system "phones home" when activated. In repsonse to our query, Harmony clearly stated that, after progarmming and pairing, no connection to its servers is required for day-to-day operation (though at press time they had not provided an explanation for the February outage). They confirmed that updating of the program guide in the iPad app does require an Internet connection to a third-party provider. Either way, any concern you have about occassional problems in this area should be weighed against the benefit of a dynamic program guide and the Link's ease of use.
The biggest issue I had with the Harmony Link was with the numeral keypad used for changing channels. With all button presses, you could sense a slight delay before the system responded. It was minimal—milliseconds, I'm sure—but you could still sense it. When I used the keypad, I had to develop a rhythm with that delay—and it wasn't easy. You can't just type at a normal speed. You have to watch the screen and type the next number after the last number appears (indicating it was recognized). However, if you delay too long, it thinks you're done and switches the channel. I missed a lot of entries trying to get the rhythm and speed just right. In fact, it got rather frustrating because it was a persistent problem and the only thing that took a bit of the shine off my original, unbridled enthusiasm for the product. This inherent latency wasn't a deal-breaker, but hopefully future updates will improve the Link's functionality in this area.
Conclusion
It seems there's no slowing the arrival of new devices with accompanying apps that promise the same thing as the Harmony Link, all for essentially the same price. I've not reviewed them all, but to date, the Harmony Link is by far the easiest to set up, especially with complex macros (i.e. one-touch Activities), and operation is ultrasimple and intuitive. It may not be all things to all people, but if you have a relatively small and simple system, it's certainly one of the best hardware/app combos available at the moment, and well worth your consideration.