Little Shop of Horrors
Little Shop of Horrors first appeared on film as a cheesy, 1960 Roger Corman flick remembered mainly for a young Jack Nicholson in a supporting role. Lyricist Howard Ashman and composer Alan Menken later used the plot as the basis for their dark, Motown-inspired, 1982 Off-Broadway musical comedy. The stage version ended with the plant eating Audrey and Seymour—and ultimately the entire human race. This 1986 film was originally shot that way, with an elaborate, monster-movie finale. But test audiences hated it for killing off the leads, and the movie was reshot for a happier ending. The latter is what you'll see on the long-available DVD.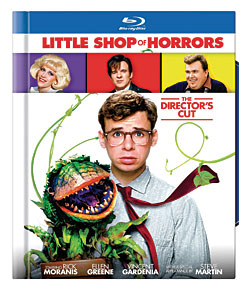 But now we have this Blu-ray Director's Cut edition, offering both versions. The movie is immensely entertaining either way. The cast is perfect and the songs engaging. All of the performers do their own singing, with Ellen Greene a vocal standout in "Somewhere That's Green" and the showstopping duet "Suddenly, Seymour." Levi Stubbs is equally amazing as the singing and speaking voice of Audrey II. But Stubbs' closing number, "Mean Green Mother From Outer Space" has always been, for me, the sole sour note in an otherwise terrific film. The song resorts to lazy vulgarities that contrast starkly with the inspired lyrics everywhere else. When that song was nominated for an Oscar, some of the lines had to be toned down for the broadcast.
The video transfer is a bit grainier in places and softer overall than the best Blu-ray releases, though these issues may originate in the source material. But even on a big screen (101 inches wide), these issues were never distracting. The same holds true for the clean audio, which in the DTS-HD Master Audio here is smoother and less edgy than I recall from the DVD's Dolby Digital track.
The extras include two informative making-of features. You also get two trailers, outtakes and deleted scenes, and good commentaries from director Frank Oz.
Blu-Ray
Studio: Warner Bros., 1986
Aspect Ratio: 1.78:1
Audio Format: DTS-HD Master Audio 5.1
Length: Director's Cut 103 mins. (Theatrical Version 94 mins.)
MPAA Rating: PG-13
Director: Frank Oz
Starring: Rick Moranis, Ellen Greene, Steve Martin
When Seymour Krelborn, a schlub working at Mushnik's Skid Row Florists, finds a strange and exotic plant, his life suddenly takes a turn for the better. But when the plant begins to speak, it offers him a Faustian bargain, promising Seymour fame, fortune, and Audrey, Mushnik's flower arranger and Seymour's secret love. In exchange, Seymour must provide the plant, which he has named Audrey II, with the food it needs to grow—human blood.
LATEST VIDEO