LiteOn HD-A740GX HDD/DVD Recorder
A set-top convergence device for the common man.
When you're in the market for a convergence product, an important part of the decision-making process is compiling a list of exactly what you want it to do for you. Some of the most popular entertainment applications include DVD/CD playback, TV recording/time-shifting, and an MP3 jukebox. A DVD burner and a video jukebox typically add a level of complexity—and cost. But, if you're looking for an easy-to-use device that won't break the bank, check out LiteOn's latest round of DVD recorders with built-in hard drives.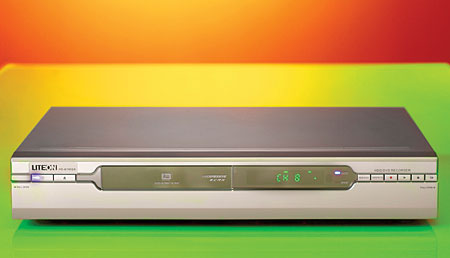 Leveraging their experience in the IT realm, LiteOn has delivered an affordable, quiet DVD burner that works with all four of the most ubiquitous formats, as well as dual-layer DVD+R. It's the first living-room recorder I've seen that offers this feature. DVD+R DL's 8.5 gigabytes can hold a two-hour movie at the encoder's highest bit rate or up to 11.5 hours of video at the lowest quality. The LiteOn has a large-capacity hard disk drive (HDD) to hold vast amounts of dubbed media and maintains the simple, friendly Easy Guider user interface from LiteOn's earlier products. Easy Guider is icon driven, with just a few reassuring words.
The onboard NTSC tuner accepts cable or antenna and uses the VCR Plus+ programming guide. It doesn't support an IR blaster, lest you think about patching in and controlling a satellite receiver. But it does include progressive-scan component video and optical/coaxial digital audio outputs. Depending upon how neat you like your home theater, the input options are many: Connect one S-video source around back, another source plus a DV camcorder via FireWire (IEEE 1394) on the front panel, and then juggle between all of the inputs via remote control. This latest LiteOn deck allows remote control of a connected DV camcorder, although the remote's range is rather limited. The player takes longer to boot than a traditional DVD deck, owing to the hard-drive startup time. Said hard drive has a 160-GB capacity (a 250-GB model is also available), which can hold almost 200 hours of MPEG-2 video at the highest compression level—or many more hours of music, or untold thousands of digital photos.
The blue Contents button calls up a bright, happy screen that organizes files on the hard drive by Video, Music, or Picture (i.e., photos). You can quickly switch between the thumbnail and text views of each file and even choose a different icon for audio thumbnails, since there's no way to include album art. You can also edit the file names one tedious letter at a time, but the interface does allow for upper/lower case, symbols, and international characters. All you have to do is choose to play from DVD or the HDD. The Easy Guider controls let you record from any input and copy content from a DVD or a CD to the hard drive or from the hard drive onto a blank DVD. You can transfer digital-rights-management-protected DivX video on demand downloads to a DVD or a CD at the computer and then play them there. The product also supports MPEG-4 playback of AVI, DIVX, and DIV files in the DivX and XviD codecs but does not support DRM-protected audio files.
Fill 'Er Up!
I've been spoiled—first by the superior power of ReplayTV and then TiVo—so I can't say I'm a great fan of VCR Plus+. And it seems that everyone's modern cable setup has a similar integrated, stepped-up control system. Even the name—which incorporates "VCR" when there's no videocassette in sight—suggests a certain obsolescence. It does at least ease the recording process versus the old "on, two hours, off," approach. The HD-A740GX captures analog video and converts it to MPEG-2, while it encodes analog stereo as Dolby Stereo.

I explored a variety of alternative methods for loading the hard drive with audio and video. I dubbed an old, unprotected, studio-issued DVD and copied the two-hour movie as a full-quality, 3-GB MPEG-2 video file (with no menu and no bonus material) in less than 20 minutes. The HD-A740GX didn't include any specific info in the resulting file name, although it noted the recording date, the recording time, and "DVD Video Disc" as the source. You can't dub copy-protected DVDs, of course. I also copied a 70-minute CD to the hard drive as full-quality WAV files in only eight minutes. Although the player recognized the disc's name, it attached no metadata whatsoever to the resulting folder or files.
On the other hand, I inserted a 700-megabyte CD-R of more than 100 MP3s. I'd ripped the MP3s from CD at my computer, and the track title and artist data was therefore attached. In this case, the info carried over when I copied and stored it on the HD-A740GX. However, when I went back to play the songs from the hard drive, I pressed the Display button, and all that came up was "Track 74," with no artist/title tag. And the player can only scroll through six tracks on its screen at a time. After that, you have to use the remote to skip to the next page of six. You can only add digital images from recordable CDs or DVDs, but the hard drive does allow you to combine your photos and music into slide shows. Without a USB port, you can't add an MP3 player or digital still camera directly, or even a card reader.
I copied a one-hour home movie from my DV camcorder to the hard drive in real time, and subsequent DVD burns only took 28 minutes each. Like any stored content, you can burn to DVD anytime, as often as you like. The HD-A740GX offers a very basic video-editing routine via onscreen prompts. The prompts aren't perfectly clear, so read the manual before you try this, as it can permanently alter your stored files. You can split large videos, merge two clips, and add chapter marks, although the HD-A740GX doesn't offer all of these functions for all media. Just the other day, my wife asked me if it was possible to save only her favorite performances from one of her entertainment competition shows to free up hard-drive space. With the HD-A740GX, she finally could.
DVD Playback
The HD-A740GX fared poorly on all aspects of Faroudja's Sage demonstration disc. This is not a DVD player you should buy if top-notch video reproduction is high on your must-have list. It also had trouble reproducing subtle visual details in films, and it didn't always properly reveal picture info lurking in the blacks, either. However, this deck is a great way for a new or cash-strapped home theater buff to break into convergence—and have the power to move into the recordable-DVD world. I just find myself wondering what this device could do with access to CDDB, or at least a keyboard to add a little finesse to content management.
Highlights
• Massive 160-gigabyte hard drive for DVR and other storage
• Compatible with DVD-R/-RW, DVD+R/+RW, and DVD+R DL blank media
• Versatile but rough around the edges versus a multimedia PC