Lite-On LVW-5045 DVD Recorder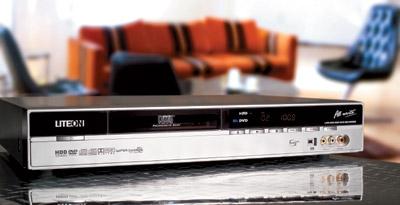 DIMENSIONS

(WxHxD) 17 x 2.625 x 12.5 inches

PRICE

$399

MANUFACTURER

Lite-On USA, liteonamericas.com, 408-935-5353
•Records on DVD+R/RW and DVD-R/RW discs as well as 160-GB hard drive •High-speed dubbing between hard drive and DVD •inputs/outputs i.Link (FireWire) input; front-panel composite-video input, composite/S-video inputs and outputs, component-video output (switchable between interlaced and progressive-scan), all with stereo analog audio; coaxial and optical digital audio outputs; RF input/feedthrough output •rear outputs composite/S-video with stereo audio; optical digital audio
After last month's spotlight review of
three budget DVD recorders
, I concluded that the only thing missing from those surprisingly feature-laden models was a built-in hard-disk recorder (HDR).
Voilà!
- the Lite-On LVW-5045 comes with a 160-gigabyte (GB) hard drive and even goes beyond the capabilities of similar DVD/hard-disk combos I've seen.
Along with its extraordinarily versatile HDR, the LVW-5045, like other decks from LiteOn, features AllWrite technology, which lets you record on four disc formats: DVD-R, DVD-RW, DVD+R, and DVD+RW. No more worries about finding blanks your recorder can use! Most DVD recorders aren't nearly so format-friendly, and even those that do record on both "dash" and "plus" media still have manuals with dozens of small-print exceptions to the recorder's operation that depend on what you have in the disc drawer. But the LVW-5045 treats each format equally. Even better, with any disc type, the deck also lets you mark chapters and "hide" them during playback - perfect for making commercials disappear.
But the really big deal here is the spacious hard drive and the deck's ability to capture recordings to it and then dub them to DVD at high speed. And the way it makes high-speed dubs from DVDs to the hard drive presents some interesting capabilities.
SETUP The LVW-5045 is fairly easy to set up. Aside from the normal DVD player setup operations, there's not much to do but connect the inputs and outputs, set the clock, and run the automatic channel-finding feature for the built-in TV tuner.
But that simplicity masks some aspects that may be important to you. The recorder lacks the electronic program guide that can make other DVD/hard-drive combos so easy to use for time-shift recording. The LVW-5045 also lacks an infrared (IR) emitter that would let it directly control a cable/satellite box, which means you have to set up all timer recordings either manually or using the VCR Plus+ system. And if you're getting programs via cable or satellite, you'll have to program that box as well.
EDITING Lite-On's editing system is perfect for zapping commercials because it allows you to insert or remove chapter markers within a recorded program in all formats, including those made to the hard drive. You mark a block of commercials as a chapter and designate it as "hidden" so the ads are skipped on playback.