Linn Majik DSM Streaming Integrated Amplifier Review Page 2
Linn strongly recommends that the Majik DSM be set up by an authorized dealer, which may involve an extra charge. Since having visitors is not always possible with the current pandemic, Linn has posted a series of online videos that customers can use for setup without dealer assistance.
The Majik DSM's operation and features are mostly configured online. You first create a Linn account and, once logged in, the DSM is automatically recognized by the company's server. The user can then, for example, determine what the DSM does at startup (e.g., default to a specific source or wait in standby), label inputs and outputs, map smart buttons, make trim and other volume adjustments, and turn Space on/off or adjust its strength. Like the Majik DSM itself, Linn's menu system is rather minimalist—this is not the type of component that requires the user to navigate through a complex maze of menu screens.
My next step was to download the Linn App on my iPhone and iPad mini. After opening my account and associating the Majik DSM with it, I set the Majik DSM up according to my prefer- ences and configured Space. Linn sent me a pair of its Majik 109 bookshelf speakers ($1,590 per pair in standard color and finish) to use for my review. I also auditioned the Linn with bookshelf speakers from System Audio and Polk Audio.

I encountered two minor issues during setup. First, it took repeated attempts to establish a Wi-Fi connection, after which, for unknown reasons, the connection simply took and everything worked fine. (I chalked the problem up to the vagaries of working with a home Wi-Fi network.) Second, I found the Majik DSM's speaker binding posts to be very small. Their size not only prevented me from connecting speaker cables that use large spade connectors but made tightening the posts with my adult-sized fingers a bit difficult.
Performance
Before delving into the Majik DSM's performance, I should note that I did most of my listening with Space engaged. My bedroom's irregular layout creates numerous low-frequency problems. But activating Space tidied up the low frequencies, resulting in clearer and more detailed sound with slightly improved soundstage size and depth.
For example, the synthetic bass line on London Grammar's "Hey Now," from the album If You Wait (24-bit/44.1kHz FLAC, Qobuz), constitutes an ultra-low torture test, and with Space enabled, the Majik DSM reproduced this track in a leaner manner. The decrease in unwanted room-related interactions unearthed details that were previously obscured with Space switched off, and also allowed the speakers to reproduce the song's subterranean synths at a higher volume without misbehaving. Since many good things in life can be overdone, I greatly appreciated the fact that Space's operating strength can be user-adjusted. In any event, listeners should experiment with the feature to see if it works for them.
Listening to "Are You Real," from Art Blakey & The Jazz Messengers' Moanin' album (24/192 FLAC, Qobuz), the Linn solidly placed drummer Blakey and his band in an expansive soundstage with good verticality and plenty of air between instruments. Lee Morgan's trumpet shone as the Majik DSM captured the instrument's intense, brilliant sound. Benny Golson's tenor sax, while not as rich-sounding as what I've heard with more expensive separate components, went impressively deep, and Blakey's percussive strikes displayed clean attack transients and excellent "pop."
Nothing I've written so far about the Majik DSM's crisp, clean sonic leanings is meant to suggest that it sounds analytical. It doesn't. However, its sonic character in some ways has a closer resemblance to the pristine and surgically accurate Devialet integrated amplifiers I've tested in the past than any number of tube amplifiers that artificially bump up the mid- bass. Indeed, as with most Linn components, the Majik DSM may not appeal to those who favor warmth and fuzziness over precision and detail.
I checked out the Majik DSM's HDMI functionality using a Sony UBP-X800 Blu-ray player, with the player converting soundtracks to 2.0 PCM for output. Streaming the Afghanistan war movie The Outpost, the Linn nicely reproduced the crackling flames that followed in the wake of explosions. Of course, asking the Majik 109 book- shelf speakers to convincingly reproduce the ultra-low sound of explosions by themselves would be unfair. To quote Emeril Lagasse, I "kicked it up a notch" by connecting a JL Audio Dominion d110 subwoofer to the Majik DSM's line-level analog RCA outputs. While this didn't exactly turn the Majik DSM into a full-fledged home theater system, the sub added low-end impact and allowed the amp to deliver even louder movie sound.
Even without a subwoofer, the Linn had no problem driving each of the three pairs of bookshelf speakers I used it with. Yes, when pushed to unreasonable extremes, the amp eventually ran out of headroom, which caused, for example, higher- range female vocals to distort. But unless you're using the Majik DSM with very inefficient or difficult-to-drive speakers, amplifier steam shouldn't be an issue in most bedrooms, offices, or other smaller-room hi-fi systems.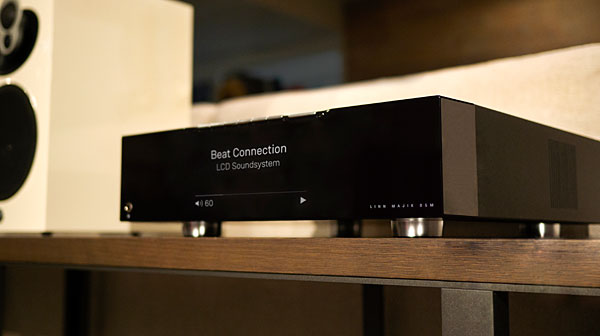 My last step was to test the Linn's headphone output using the HiFiMan Ananda, a $700 planar magnetic headphone that is easy to drive. The combo produced strain-free sound, along with plenty of detail. As with the regular amp output, the sound was not overly warmed- over; instead, what was on the recording is pretty much what came through the Ananda.
Continuing with head- phones, I listened to "Blues in B Flat (LP Version)" from the Modern Jazz Quartet's Blues on Bach (16/44.1 FLAC, Qobuz). The upper-register notes of Milt Jackson's vibraphone sounded lustrous and appropriately metallic, while Percy Heath's bass had a somber quality with good weight. The presentation was slightly less forward than what I've heard with some headphone amps, including a DarkVoice 336 SE that I compared it with. While the DSM's headphone output won't perform at the same level as a good free-standing headphone amplifier, its sound should satisfy all but the most serious can junkies.
Competition And Conclusion
Competition in the one-box streaming integrated amplifier space is intense, with the Majik DSM's many rivals including Naim's $3,290 Uniti Atom and NAD's $4,999 Masters M33, each of which brings its own strengths to the table. With a color display that shows album art and a highly polished, illuminated remote control, the Uniti Atom has heavy sex appeal. And the M33 also has a large front-panel color display, delivers impressive power, and features Dirac Live room correction.
But the Linn Majik DSM makes no apologies to anyone. It offers stellar sound quality, an elegant and minimalist design, and with multiple HDMI ports (including one with HDMI ARC) a feature set that's not only versatile, but unique. The Majik DSM is one easily recommend- able product that Ivor Tiefenbrun couldn't possibly have contemplated when he set out one day five decades ago to buy home furnishings.