Lincoln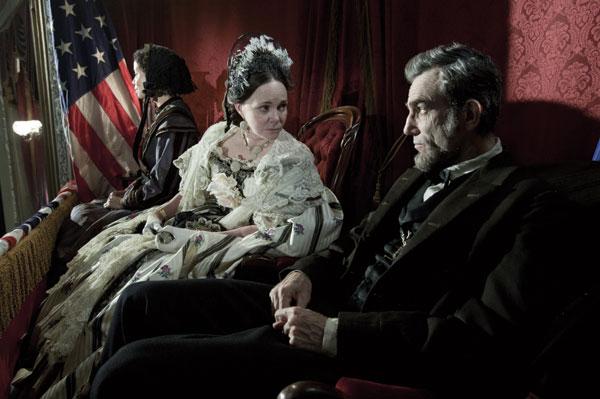 Many movies have been made about Abraham Lincoln, some of them starring prominent actors (Henry Fonda, Raymond Massey, Gregory Peck, Sam Waterston), but this is the first one that appears seamlessly authentic. Part of this sense stems from Daniel Day-Lewis' portrayal of President Lincoln: not just the tenor pitch of his voice but also his lumbering gait, his modesty and good sense, his soft humor and stunning eloquence—it's a bravura performance, yet it seems completely natural, not a performance at all. To the extent you think about Lewis' craft while watching him (as opposed to simply taking him in), your thought bubble will read, "This really could be Lincoln!" But the achievement also stems from Tony Kushner's (realistically) literary screenplay, from the set designers' creations, from the clear immersion of all the actors down to the most peripheral extras, and, encompassing all of this, Steven Spielberg's vision.
This was a gorgeous film in theaters, but not in the usual way. It's not eye candy. The lighting is often dim (simulating the kerosene lamps of the day), and colors are desaturated. But in the hands of Janusz Kaminski, Spielberg's frequent cinematographer, the scenes come alive; the chiaroscuro backdrops are neither grimly gritty nor self-consciously Rembrandtian. The 1080p transfer captures the effect brilliantly. There's a real sense of depth, a vast array of shades and shadows, and layers of detail (in facial gestures, fabric textures, architectural design) emerging from the light and darkness. The surround sound is crisp and enveloping; and John Williams' score goes lighter than usual on the bombast.
The basic two-disc box (one Blu-ray, one standard DVD, each with two brief making-of featurettes) is fine; the four-disc deluxe pack (with an extra disc of special features) adds little.
Blu-ray
Studio: DreamWorks, 2012
Aspect Ratio: 2.40:1
Audio Format: 
DTS-HD Master Audio 7.1
Length: 150 mins.
MPAA Rating: PG-13
Director: Steven Spielberg
Starring: Daniel Day-Lewis, Sally Field, Tommy Lee Jones
To my mind, Lincoln was the best film of 2012. In any case, it's a rare thing: an old-fashioned biopic, a 19th century costume drama, a "talky" set piece about a debate in Congress—and yet it's riveting, stirring, transporting. This is a film about the struggle over the 13th Amendment, which abolished slavery; but it's also about the nature of hard-boiled politics, the tension between compromise and principle, and the meaning of leadership—and, somehow, it doesn't come off as preachy (except, a bit, at the very beginning and ending, though what comes in between almost earns it the right of a little sentimentality).