The Lighthouse
The Shining
. It all makes for a great (if grueling) two-handed drama.
An odd 1.20:1 aspect ratio—noticeably narrower than the 1.375:1 Academy ratio of pre-widescreen movies—helps to set a disorientating tone. Director Robert Eggers and cinematographer Jarin Blaschke's gorgeous, highly stylized compositions are similarly disconcerting, at times strongly balanced by shapes within shapes, and at others off-kilter or lurching around dizzily like the film's drunken characters. Minimal lighting lends the black-and-white images a horror-film quality (think The Old Dark House), the two figures lit from below by a single kerosene lantern while the rest of the room recedes into the gloom. Shots often evoke smudgy charcoal drawings or German Expressionist prints, with deep blacks and exceedingly bright whites—especially in the lighthouse's blinding, godlike lamp. Images become more striking and display higher contrast in dream sequences, while a wide range of grays appear in daytime scenes when fears and madness are temporarily suppressed. Shot on Kodak Double-X 35mm film using original Bausch & Lomb Baltar lenses from the 1930s and a distorting lens from 1905 for dream sequences and other heightened moments, images look super-sharp and detailed, with plentiful film grain that never interferes with clarity.
Foreboding low frequencies abound in the soundtrack from the get-go, Mark Korven's eerie, atonal orchestral score melding with throbbing engines and the plowing prow of the ship bringing the new lighthouse assistant to the lonely, barren rock. Afterward, well-separated instruments accompany rumbling electronic noises and endless wind, surf, and foghorn. Sounds shift convincingly as the characters' perspective changes, immersing you in their lonely-but-noisy existence. The soundtrack's wide dynamic range allows all sounds, soft or loud, to be clearly individuated, and for the keepers' arguments, poetry, and tall tales to stand out against their alternating long silences.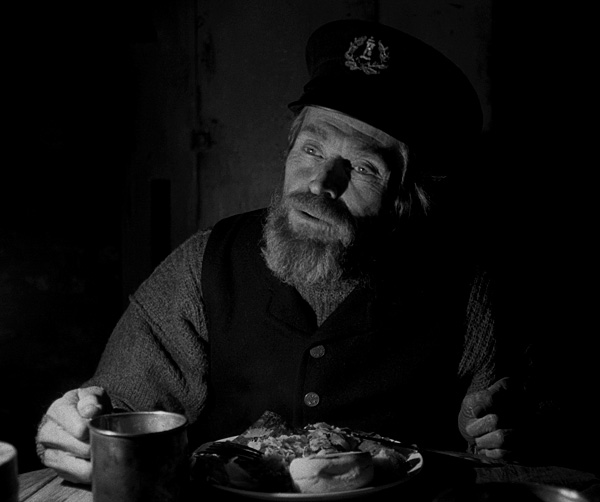 Extras include a commentary by director Eggers that explains the content of shots and techniques used, plus a 40-minute featurette that illuminates the film's challenging production and performances.
BLU-RAY
STUDIO: Lionsgate 2019
ASPECT RATIO: 1.20:1
AUDIO FORMAT: DTS-HD Master Audio 5.1
LENGTH: 109 mins.
DIRECTOR: Robert Eggers
STARRING: Willem Dafoe, Robert Pattinson, Valeriia Karaman

Around 1890, two lighthouse keepers—isolated on a remote New England island with just gulls, each other, and a large supply of liquor for company—begin to gradually lose their sense of reality, civility, and eventually their sanity in an atmospheric concoction not conveyed this intensely since