LG LRY-517 universal DVD recorder/VCR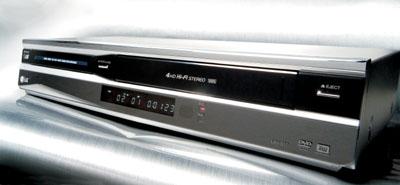 Last time I checked, there were five different recordable-DVD disc types - a potential compatibility catastrophe. Wouldn't it be great if someone invented a player that could play all kinds of DVDs? Even better, what if it was also a recorder?
LG, apparently able to read my mind, created the LRY-517, billed as the world's first "universal" DVD recorder. Besides being the first to both play and record DVD-RAMs along with DVD-R/RWs, DVD+R/RWs, and even DVD+R DLs (double layer), it can also play DVD-Video discs, audio CDs, and CD-R/RWs as well as read JPEG, WMA, MP3, and DivX files. Wait! There's more! The deck boasts slots for eight different memory-card types and includes a four-head VCR. Whew. All in all, this recorder is about as universal as it gets. Well, not quite - it can't record to CD-R or -RW.
What We Think
A recorder that burns to most any DVD disc or VHS tape, but falls shy of its promise of universality.
The LRY-517 is as austere-looking as a Quaker on Sunday, so it won't win any awards for industrial design. Its front panel is remarkably plain. Two loading slots, one for disc and one for tape, stare down at you. A lower panel flips down to reveal - most notably - a FireWire (IEEE 1394) input that lets you quickly jack in a DV camcorder and dump your home movies to tape or disc. Excellent.
The feature set is sparse, but with a few niceties like an AutoPlay mode for DVDs that automatically starts movie playback, skipping the menus and annoying trailers. Another nice touch: the menu for your discs shows up to nine thumbnail images containing the opening scene for each chapter. Click on a thumbnail, and the scene starts playing in low-res inside the thumbnail. Once you've seen enough to know you've got the right chapter, you can select it for full-screen playback.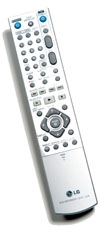 RECORDING & EDITING Of course, the crowd pleaser is the DVD recording capability. Never burned a DVD before? Relax. This player makes it super simple: Drop in a blank DVD, select a recording mode, and hit the record button. That's it.
There are the usual four recording modes - XP, SP, LP, EP - and a standard 4.7-GB disc yields recording times of 1, 2, 4, and 6 hours, respectively. Recording times are approximate because the deck uses variable bit-rate compression, so capacity depends on what's being recorded. The recorder's real perk is its readiness to dump bits to any DVD disc you feed it. I particularly like that it accommodates DVD-RAM discs because they allow simultaneous recording and playback - you can start watching the beginning of a title while the rest is still recording (and you can even monitor the progress of the recording as a picture in picture). Killer.
As you delve deeper into DVD recording, the LRY-517 will accommodate your greater sophistication. For example, you can format DVD-RW discs in either Video or VR mode. The Video mode creates discs that are playable on conventional DVD players after the disc is finalized. The downside is that you're limited in terms of editing. Conversely, the VR mode allows extensive editing, but discs can be played only on other decks with a VR mode.
Speaking of editing, that's one of the most important features that a DVD recorder can provide. It's easy to dump programs onto a disc, but you'll soon want to organize and edit them into more conveniently watchable forms. In VR mode, the LRY-517 lets you either edit the content directly, or edit a playlist that determines how the content is played, leaving the video itself unaltered. You can delete an original or play­list title/chapter, delete a part of a title, name a title, divide one title into two, combine two chapters into one, rearrange the order of playlist chapters, hide a title/chapter, overwrite a previously written title, and protect a title against accidental erasure. Various editing functions, however, depend on the type of disc used. For example, you can delete part of a title only on DVD-RW (VR) and DVD-RAM discs, move a playlist chapter only on DVD-RW (VR), and divide a title only on DVD+RW discs. Ultra confusing - and not quite universal.
I was bummed that the player lacks a commercial-skip button and that you can't move data from memory cards to disc or tape. On the upside, you can manually delete commercials from a recording by searching for start and end points, or designate commercials as chapters and delete those chapters - tedious, for sure, but better than nothing.