LG BD590 Blu-ray Player
Price
: $430
At A Glance
: Fast loading of Blu-ray Discs • 250-GB built-in hard drive • 802.11n Wi-Fi • VUDU HDX streaming • CinemaNow • Netflix
More Than Just a Disc Player

LG Electronics has proven itself to be the most innovative manufacturer of Blu-ray players in the world. It was first to market with an HD DVD/Bluray Disc combo player (BH100), a player with Netflix streaming (BD300), and a player with 802.11n Wi-Fi (BD390). To continue its string of firsts, LG's BD590 is the first standalone Blu-ray player to include a builtin 250-gigabyte hard drive. It provides storage for BD-Live interactivity and can store movies purchased from VUDU, plus you can rip your favorite CDs for easy access. The player also lets you access Gracenote's vast database of movie and music metadata. You can look up information by pushing a button on the remote. Let's take a look and see how the BD590 stacks up to LG's previous efforts.
Stream, Stream, Stream
Streaming movies was a fixture on last year's LG BD390, a Home Theater Top Pick. However, the BD590 is the first player we've tested with VUDU service, and it's mighty impressive. Netflix's 720p HD streaming with stereo audio pales in comparison with VUDU's HDX films. Most of these are in 1080p resolution with Dolby Digital Plus 5.1 (640 kbps) soundtracks. Granted, you need a minimum of a 4.5-Mbps Internet connection to take advantage of the service. Luckily, my Comcast Internet clocks in at a blazing 16 Mbps. [Braggart!—Ed.]
I love the Netflix subscription model. For less than $12 per month, I can have one Blu-ray Disc at home and stream an unlimited number of additional movies and TV shows. Unfortunately, VUDU is a pay-per-title service. Rentals range from $1 each (standard definition) up to $6 each (HDX), and 720p HD streams cost $4 per title. When you rent a movie, the LG will store it in a queue for 30 days unwatched. Once you press Play, a 24-hour viewing period starts. If you're so inclined, you can also purchase movies and store them on the included hard drive; prices range from $5 to $25. Personally, if I like a movie enough to own it, I prefer physical media. Call me old-fashioned.
In the past, VUDU offered its own hardware, but it's now being built into a variety of consumer electronics devices such as HDTVs and Blu-ray players. Walmart purchased VUDU in late February. While this provides a strong future for VUDU, the parent corporation eliminated VUDU's After Dark section, which offered a wide variety of adult content.
The BD590's other streaming services include CinemaNow, YouTube, Pandora, Picasa Web pictures, and AccuWeather forecasts. It's also a DLNAcertified digital media player that can display movie, photo, and music content from any DLNAcompatible digital media server.
If you have thousands of MP3s, photos, or video files stored on networked computers, the LG can stream these files to your family room for everyone to enjoy. Just don't expect repeat visits from friends if you insist on showing all of your latest vacation pictures.
A Little Off the Top
The BD590's look and feel are different from the previous-generation BD390. It's shorter by nearly half an inch, and it sports a sleek flip-down front panel that hides the disc tray and most of the control buttons except for Eject and Power. The hidden controls include Play, Stop, etc., as well as a USB port. But be advised that if you insert a USB stick, the front panel won't close. A modestly sized display rounds things out. It's bright and clearly readable from across the room, although I wish LG had made it dimmable.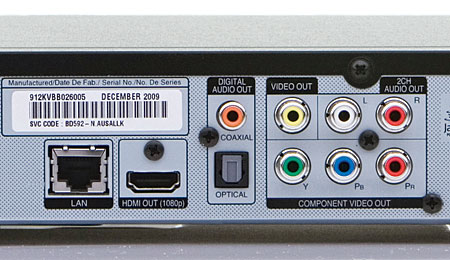 Rear-panel connections include HDMI 1.3a with x.v.Color. (The BD590 isn't Blu-ray 3D ready and isn't upgradable.) The back panel also includes component video and composite video outputs. Audio connections include TosLink, coaxial digital, and stereo analog. There are no 7.1-channel analog audio outputs, so if you own a legacy AVR that doesn't have HDMI and you want to enjoy Dolby TrueHD and DTS-HD Master Audio, you'll need to look elsewhere for your Blu-ray fix. If you have Ethernet run to your equipment rack, you can take advantage of the supplied Ethernet jack or use the built-in 802.11n Wi-Fi to go wireless. There isn't a second USB port on the rear panel, but the built-in 250-GB hard drive makes external storage less of an issue.