LG 42LG60 LCD HDTV
A face in the crowd?
Korea-based LG, which absorbed Zenith a few years back, is one of the world's largest flat-panel HDTV manufacturers. The company is working on some exciting new stuff, including plasmas that meet the new THX video specifications. LG will also produce LCDs that employ local dimming, a technique that improves the black level and contrast of LCD sets. Some of these models will be in stores by the time you read this, or by the fall season.
The 42LG60, at $2,500, is a more conventional 1080p LCD display. The set offers no THX massage or local dimming. But it does offer intriguing features like the 120-hertz refresh rate that's almost universal on sets with upmarket aspirations.
The Big Red One
The 42LG60 ships with its stand detached. This is a bit of an inconvenience since a minority of flat-panel owners wall-mount their sets. It takes just a few minutes to attach the stand (unless you turn it backwards as I initially did—the round side goes in front!). The stand also offers a useful range of manual rotation.
You can't mistake the look of this LG with another flat-panel set. It the front, the glossy black frame is wider at the bottom than most flat panels. This retro style accommodates an oversized, illuminated LG logo. You can disable both the logo and the little tune the set plays when it powers up.
The back panel is finished in a bright cherry red. Once the shock wears off, you'll see an input panel that includes three HDMI 1.3 connections, two component, and an analog VGA (RGB) PC input jack. There's no S-video input, but I never missed it. While most of the jacks are on the back panel, a small, side-mounted panel features the set's only composite A/V in, an additional HDMI 1.3 connection, and a USB jack for viewing photos or listening to music stored on a USB flash drive.
The set provides both coaxial and TosLink digital outputs. This feeds the audio from the set's onboard ATSC and NTSC tuners to an external audio system. The display's onboard audio sounds a shade better than what you'll hear from most flat panels, particularly in its decent voice reproduction. Still, it's no revelation and doesn't like high playback levels.
The 42LG60 includes eight selectable picture modes. One of them is aptly called Intelligent Sensor. With Intelligent Sensor, "the most suitable picture is automatically adjusted according to the surrounding conditions." You can use the other seven modes as supplied, or you can adjust each one individually.
The Expert picture modes offer unusually flexible color adjustments. The Expert white-balance adjustments in the user menu provide high and low settings for red, green, and blue, or 10-point adjustments. There's also an Expert mode color-management system in the user menu that offers individual color and tint controls for red, green, blue, yellow, cyan, and magenta. Oddly, the owner's manual doesn't discuss either of these features in detail.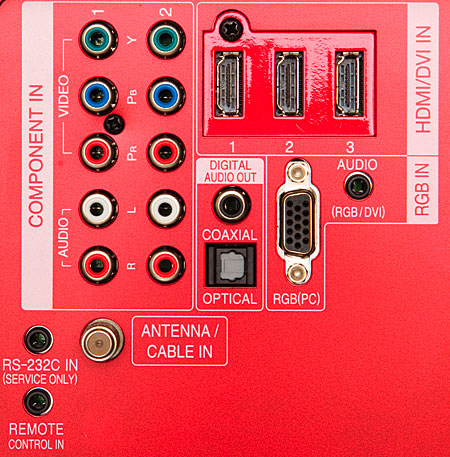 The code-programmable remote can control three components, apart from the TV itself. It's nicely arranged and easy to use, although it has no backlighting and does not allow for direct selection of inputs. On the plus side, the colorful onscreen input menu highlights only those inputs that are currently connected to sources. You can label the inputs from a limited list of optional names.
You also get password-protected parental control, closed captioning, a sleep timer, and auto shut-off. The only common feature that's missing is picture-in-picture.