Les Misérables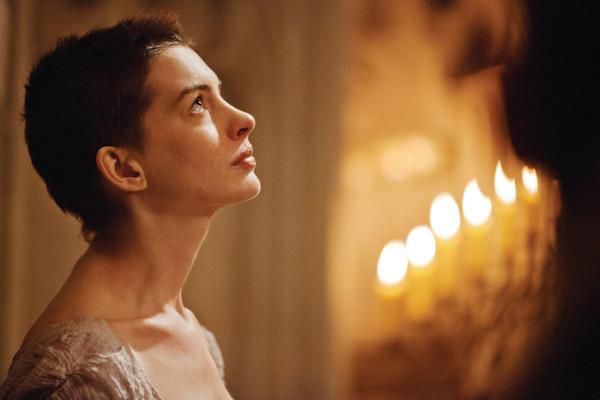 Les Misérables
has seen numerous film adaptations over the years, but this most recent version is the first fully dramatized film adaptation of the celebrated stage musical that has been the toast of London, Broadway, and the rest of the known universe for decades. In the Tony Award–winning stage musical, the plot's diverse narrative skillfully weaves its way over many years and multitudinous character evolvement through beautiful orchestrations and powerfully emotional songs. In this new film version, however, the story bounces along frenetically from song to song in one hectic rush to get to the ending coda before audience members start fidgeting or exceed their three hours of complimentary theater parking with validation. Heaven forbid.
Director Tom Hooper succeeds in crafting the dark and gritty atmosphere of 19th century Paris. Perhaps a little too heavily, but it's an immensely sharp and detailed picture nonetheless. Actor close-ups are abundant, and the blood, sweat, and tears are downright palpable. Colors and skintones are consistent and even. Hooper also insisted on recording the vocals live on the set as they shot, instead of the old-fashioned way of pre-recording all songs in a sound studio with a full orchestra and then lip-syncing to playback later on film. The intent was to give the proceedings added intimacy and realism, but unfortunately, that creative decision serves as a detriment.
In a live stage performance, the actors are belting and punching their vocals to the back of the house in equal measure with the full force of the orchestra. The energy of that is truly exhilarating. If you've ever seen Les Mis performed live on stage, you know what I'm talking about. But here, even with DTS-HD Master Audio 7.1, the results are a bit underwhelming. The actors sing-talk and sing-whisper their lines with quiet delicacy, and the orchestra hangs so far in the back that it's almost as if they're singing a cappella. Anne Hathaway's soliloquy aria notwithstanding, much of the power and passion falls disappointingly flat. The opening theme booms through your speakers amid crashing waves, and droning cadence of the chorus, musketry, and cannon fire thunder with rousing force and verve—but those flashes of auditory panache are few and far between in an otherwise subdued mix.
Extras include audio commentary, an hour-long documentary, and a featurette on Hugo. Interactive features include BD Live, My Scenes, pocket BLU, Uhear, and the Ticker. A DVD and Digital Copy are also included.
Blu-Ray
Studio: Universal, 2012
Aspect Ratio: 1.85:1
Audio Format: DTS-HD Master Audio 7.1, DTS Digital Surround 5.1
Length: 158 min.
MPAA Rating: PG-13
Director: Tom Hooper
Starring: Hugh Jackman, Russell Crowe, Anne Hathaway
Victor Hugo's epic novel