La Grande Illusion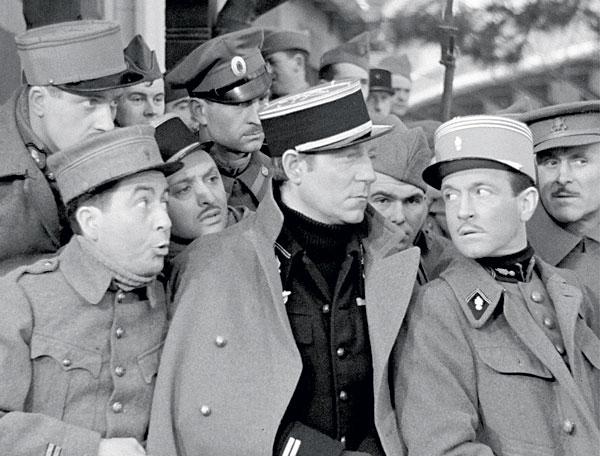 For decades, cineastes could watch only a murky print of what they were told was a gorgeous classic. Then, in the 1990s, the original camera negative—which the Nazis had supposedly destroyed—turned up in a film archive in Toulouse. A theatrical release, which I saw in New York's Quad Cinema, was a revelation: the depth of field, the clarity of the faces, the backdrops, the contrasts.
In 1999, the Criterion Collection mastered a DVD from the negative. It looked impressive—it was one of Criterion's first DVDs—but this Lionsgate Blu-ray looks much better. The jitter that once plagued the title is gone. The softness of the first images—the record spinning on the turntable, the face of Jean Gabin singing along with the tune—is sharpened. And so it goes through the entire film. The sound has also been restored: Even the Criterion's soundtrack was warbly; not the Lionsgate's.
There are also three fascinating special features: a before-and-after view of the negative (which, as discovered, was in less than great shape) compared with the 1080p restoration; an enlightening discussion of how the negative was discovered; and a very intelligent lecture by French critic Ginette Vincendeau of the political debate that has surrounded the film since. A must-have.
Blu-Ray
Studio: Lionsgate, 1937
Aspect Ratio: 1.37:1
Audio Format: DTS-HD Master Audio 2.0
Length: 114 mins.
MPAA Rating: Unrated
Director: Jean Renoir
Starring: Jean Gabin, Pierre Fresnay, Erich von Stroheim
Jean Renoir's La Grande Illusion remains, 75 years on, one of the greatest films ever made. To some, it may seem a bit clichéd, but that's only because so many movies since have cribbed from its plot lines. It takes place in German POW camps during the First World War and was shot on what many recognized at the time as the eve of a Second World War. One of the things it's about is the world that vanished, for better and for worse, in the two decades between the two wars. There has been much debate over just which "great illusion" Renoir was referring to in his title. Some have assumed it's war. But this is not a simple anti-war movie; at the end, our French heroes, who have escaped from the camp, can't wait to get home so they can reenlist in the fighting. Renoir, it seems, sees war as a piece of a grander illusion—the stuff of all artificial boundaries: between nations, social classes, religions, even between stuffy rooms and the vast space of outdoors. Renoir doesn't push any of this in dialogue. It's all in the language of his filmmaking, much of it clearly inspired by the paintings of his father, Pierre-Auguste Renoir.