La Dolce Vita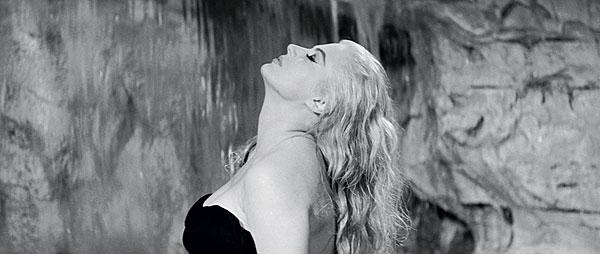 The Criterion Collection's 1080p transfer is gorgeous, a meticulous 4K restoration, struck from the original black-and-white camera negative, except for a few scenes where it was too damaged, in which case the finest dupe or print was sought out to substitute. The soundtrack is crisp, featuring Nina Rota's most accomplished, evocative score. The extras are also a treat, mainly interviews with Fellini and other Italian filmmakers or scholars discussing the film's making and significance.
And yet, to me, La Dolce Vita is a crashing bore. Its themes may have been riveting in 1960. As Gary Giddins writes in his almost-persuasive booklet-essay, "After a dozen years of neo-realism, which catalogued the privations of postwar Italy, Fellini reinvented Rome as a caravan of dreams or nightmares, debauched, pathetic, yet perfidiously appealing, a tourist attraction, and also a recruitment station for the inferno." I would disagree only, but crucially, with "perfidiously appealing." To me, every character in the film is shallow, self-destructive, and not at all appealing. The iconic scene—Anita Ekberg as a vivacious Swedish-American movie star, prancing through Trevi Fountain while almost falling out of her extremely low-cut dress—was as sexy as cinema got back then, but it comes off as a bit campy now. The wallowing-in-decadence theme has often been trotted out in the half-century since, and Fellini's take doesn't hold up well, especially against Paolo Sorrentino's 2013 The Great Beauty (also on a Criterion Blu-ray), which takes off from La Dolce Vita's premises but spins a humanistic story, with finely wrought characters who prompt sympathy, contempt, pity, or ambivalence but never a yawn.
Blu-Ray
Studio: Criterion Collection, 1960
Aspect Ratio: 2.35:1
Audio Format: Uncompressed mono (Italian with English subtitles)
Length: 174 mins.
MPAA Rating: Unrated
Director: Federico Fellini
Starring: Marcello Mastroianni, Anita Ekberg, Anouik Aimee
La Dolce Vita was Federico Fellini's breakout hit: a critical and commercial sensation, even in America, where foreign films till then were strictly art house fare. It's the winding tale of a litterateur-turned-gossip columnist wandering the streets, bars, and parties of newly decadent modern Rome, seeking love, meaning, and value but finally realizing their futility and wallowing in the miasma. The film coined archetypes of the era: a character named Paparazzo, a tabloid photographer who chases after sensational shots, spawned the word paparazzi; another, Steiner, a refined man of culture who commits a gruesome crime, became the prototype of the modern ineffectual intellectual.