Kit Kittredge: An American Girl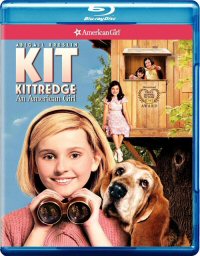 Kit Kittredge (Abigail Breslin) is a young girl growing up during the Great Depression. Interrupting her happy childhood, her father (Chris O'Donnell) loses his business and must leave home to look for work. Kit and her mother (Julia Ormond) end up taking in an assortment of boarders in order to keep their home.
Kit Kittredge: An American Girl is the first major motion picture based on the popular American Girl stories, although there have been some direct-to-video releases. Having a 12-year-old daughter who has owned a Kit Kittredge doll since she was four, this is a "must-own" disc in my home. But that's fine with me because the story is very entertaining, and Abigail Breslin delivers another fabulous performance.
Unfortunately, the video presentation is average at best. The VC-1 encode lacks any depth, especially with the unnaturally smooth and texture-free skin tones. Detail is average, with close-ups exhibiting a slightly processed look, and longer shots lack definition. Black levels are elevated a tad, and the color saturation is a bit pumped up along with contrast.
The 640kbps Dolby Digital 5.1 soundtrack is front-loaded, as you would expect from this genre. The surround channels are mainly there for ambiance and score bleed with only the occasional discrete effect. Dialog is clear and intelligible, and the front soundstage is expansive with some decent panning effects. The score by Joseph Vitarelli complements the story well with its Depression-era tunes.
The bonus features are meager, with some American Girl trailers and a digital copy of the film for use on portable players. My daughter was very disappointed by the exclusion of any behind-the-scenes featurettes or historical heritage of the Kit Kittredge doll she has faithfully owned for the past eight years.
Unlike a lot of Hollywood films that depend upon explosions and special effects to entertain the crowd, the heart-felt Depression-era story is the centerpiece of this family-friendly film. The presentation is a bit of a let-down, but given the target audience, I don't think they care. Recommended for families.
Release Date: October 28, 2008
Movie: 9/10
Picture: 6/10
Sound: 6/10

Review System
Source
Panasonic DMP-BD55

Display
JVC DLA-RS1 projector
Stewart FireHawk screen (76.5" wide, 16:9)
Electronics
Onkyo Pro 85 pre/pro
Anthem PVA-7 Amplifier
Belkin PF60 power conditioner
Speakers
M&K S-150s (L, C, R)
M&K SS-150s (LS, RS, SBL, SBR)
SVS PC-Ultra subwoofer
Cables
Monoprice HDMI cables (source to pre/pro)
Best Deal analog-audio cables
PureLink HDC Fiber Optic HDMI Cable System (15 meters) from pre/pro to projector
LATEST VIDEO