JVC LT-46FN97 1080p LCD Flat Panel Television
It isn't immediately obvious that the JVC LT-46FN97 ($3,499.95) stands out in a sea of new flat panel displays. Its styling is attractive but generic. Its feature set is good though hardly revolutionary. But when I first saw it in action at a JVC line show I knew I wanted to review it. Two other trade shows intervened before I had a chance to spend time with this 46" 1080p LCD set in my own studio, but demos at both shows made me even more anxious to check it out.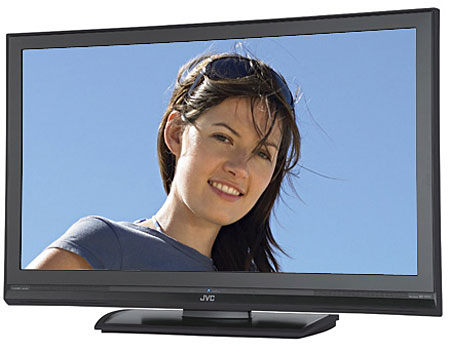 East Side, West Side
The jack pack on the rear of the JVC is covered by two removable panels. One panel hides the digital connections, the other the analog. The analog panel is located on the right rear as you face the set and faces the side so that the jacks are easy to access and the leads will not interfere with a wall-mount. Nevertheless, I always recommend that you hook up all of the leads you need, plus any you anticipate needing, before wall mounting any flat panel display.
Something else to keep in mind before wall mounting: There are no camcorder-convenient jacks on either the front or the side; you must use the connections on the rear panel. The only things you'll find on the side of the set are operating controls and a headphone jack.
There is a CableCARD slot near the digital connections. CableCARD facilities are rapidly disappearing from current sets as consumers realize how resistant cable companies are to the concept (they have to offer it, but they don't have to make it easy) and its current lack of interactive features like Pay-Per-View.
There are two RF cable/antenna inputs. The hookup instructions show both of these connected simultaneously from an antenna or cable feed using an external RF splitter. This is fine if you want to receive both NTSC (standard definition) and ATSC (DTV, including high-definition) channels over the air via the set's built-in NTSC/ATSC tuners. But keep in mind that if you use an outboard cable box rather than the set's CableCARD tuner you can't receive cable HD channels using an RF connection from the cable box to the set. Every cable box I know of requires an analog component or HDMI/DVI digital connection to deliver high-definition.
That's not the only aspect of the JVC's input/output complement that isn't entirely clear from the specs. There are two HDMI (HDCP compliant) digital video inputs (Digital-IN1 and Digital-IN2) that can carry both video and audio to the set. In addition, Digital IN-1 also has separate L/R analog audio jacks, which is a bonus if you wish to use a DVI-based source (via a DVI-HDMI breakout cable) with the set's audio system. A menu option allows you to choose between the digital audio carried on the HDMI cable or the analog two-channel audio entering these L/R inputs.
There are three sets of analog video inputs. Each of them also has L/R audio inputs. Video-3 has jacks for component and composite video, only one of which may be used at a time. Video-2 has S-Video and composite video connections and, ditto, you can't use both of them simultaneously.
Video-1 is a so-called Smart Input. If you're using an AV receiver or pre-pro with multiple video sources of various types attached to it, you can run composite, S-Video, and component video cables from the receiver or pre-pro to the set's Video-1 input. When the Smart Input setup mode is engaged, Video-1 will then recognize which input is carrying a signal at any given time and activate that particular connection. You need only select the appropriate input on the receiver or pre-pro; the set does the rest. (According to JVC, not all receivers or pre-pros will work with this feature.)
One limitation of the Smart Input is that it does not include either of the digital video (HDMI) connections in its input recognition set. Another hookup option, and the one I used for most of this review, is to use one of the new AV receivers or pre pros that converts all incoming source inputs to HDMI. I used a Denon AVR-4306 receiver (review in progress) connected to three different sources: an early standard definition ReplayTV tuner/DVR box via composite video, an HD cable box/DVR via component, and DVD/HD DVD players over HDMI. This setup required only a single HDMI run from the receiver to the JVC, with all the video format conversion and switching (but no scaling or deinterlacing) performed by the receiver. While much of my viewing was done this way, I also watched DVD and HD DVD connected directly to the set to insure the quality of the Denon's switching, which appeared to be pristine.
All of the inputs may be relabeled using a fixed set of 10 options, such as VCR, DVR, DVD, GAME, etc. But they cannot be renamed with more specific, unique designations, like JVC DVD, Panasonic Blu-ray, etc.
The JVC also has a Monitor/Recording output with a choice of composite or S-Video outputs, plus L/R analog audio. This output works only with the Video-1 input set, and there are restrictions on what you can record from it. Most significantly, if you are receiving an ATSC/digital cable signal, it may be accessed for recording only from the S-Video or composite output terminals. This means, of course, that you cannot record a high-definition program at full resolution from the set's HD tuner using this output.
But I'm not sure why you'd want to do this. Normally you will use the tuner in a VCR or DVR to record programming for posterity or time-shifting. The set does provide two IEEE 1394 i.LINK connections that may be used to record and play back non copy-protected, high-definition programs using a D-VHS recording deck—a feature offered by few other current sets. The fact that JVC is the only manufacturer with a consumer D-VHS deck in its product line just might have something to do with this. Hopefully, those connections will come in handy when (or if) we get Blu-ray or HD DVD recorders in this country that offer compatible i.LINK inputs and aren't crippled by copy protection thingamajigs.