JVC HA-FW01 In-Ear Headphones Review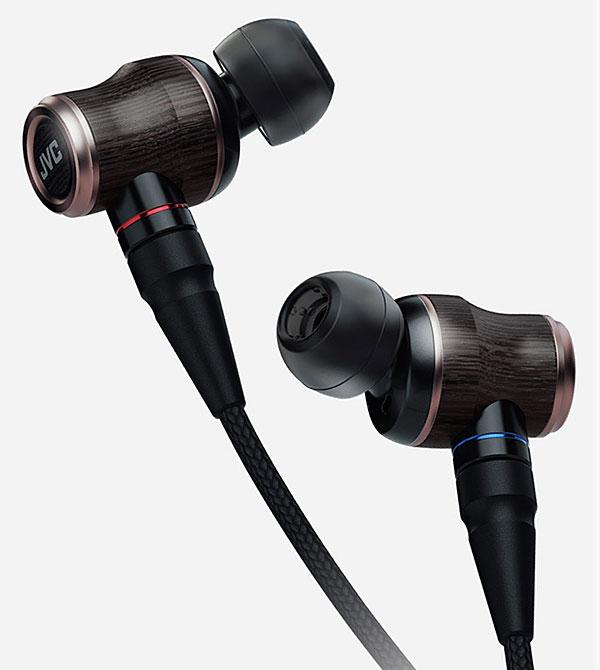 PRICE
$329.95
AT A GLANCE
Plus
Solid build quality
Spacious imaging
Natural treble response
Minus
Bass could be smoother
Heavy
No inline controls on cable
THE VERDICT
With a unique wood-dome diaphragm, JVC's HA-FW01 in-ear headphones deliver a clean sound that shines with acoustic music, particularly classical.
When our illustrious editor Al Griffin suggested that I review the JVC HA-FW01 in-ear headphones, he mentioned that they were "fancy." What could possibly be so fancy about headphones? As it turned out, the HA-FW01 has a gorgeous look, with a dark wood housing and rose-gold accents, but it's what's inside that really makes them fancy.
Wood has certainly been used for speaker cabinets and even as housings for headphones and earphones in the past. Along with the wood housing, JVC has created a unique 11mm wood diaphragm from a machine they've developed specifically to shave wood to approximately 50-microns, or about the thickness of a human hair. The company has also studied how to precisely slice wood grain in order to enhance sound.
According to JVC, the HA-FW01 uses other innovative design techniques. For example, precisely spaced holes in the interior of an "acoustic purifier" located inside the headphones works with raised spiral dots on the interior of the silicon eartips to diffuse the sound and create a natural dispersion. Stainless steel, brass, and aluminum components work as a metal "harmonizer" that serves to eliminate resonances. A decorative wood endcap is also said to further reduce resonances. One minor downside: all that wood and metal results a somewhat heavy earphone.
The HA-FW01 comes with burgundy velvet-lined carrying case and a plethora of eartip sizes and styles—7 in total. There isn't an easy way to carry those eartips in JVC's supplied case, but once you find one that provides the right fit, you shouldn't need to keep them handy.
Another fancy feature of the HA-FW01 is a detachable MMCX cable with a braided fabric covering that minimizes physical contact noise according to JVC. It should be noted that the included cable doesn't have a microphone or remote track control.
On its website, JVC indicates that when tuning the HA-FW01 the goal was to balance vibrant intelligibility with a thicker tone in the mid-bass range. They also recommend using recordings of large orchestral ensembles for the best listening experience. While I certainly checked out the headphones using classical music, I also listened to my usual playlists and a variety of sources.
At first, I used the included foam ear tips since I usually find that foam is more comfortable, provides a better fit, and results in enhanced bass and a warm overall sound. The foam tips lack spiral dots found in the silicon ear tips, however, and have a very different sound signature: bass was lackluster, and there was a very unpleasant harshness in the upper mid-range. After switching to the silicon ear tips, it became apparent that those spiral dots really do improve the sound quality.
Performance
I started out my listening with the title track from Shawn Colvin's Steady On (30th Anniversary Acoustic Version). The full, rich low-end of her guitar had a warm reverb that created a beautiful stereo image with a broad soundstage. Colvin's vocals have matured since Steady On's original 1989 release, but it still has a clear, clean tone and the dynamics of her voice between the verses and chorus were conveyed flawlessly. Another favorite of mine from this album is "Diamond in the Rough." Colvin adds a percussive strum-slap to her guitar playing, and again the lower end of these tones had a pleasant resonance.
One of my oft-played classical recordings is Mussorgsky/Ravel's Pictures at an Exhibition conducted by Dmitri Kitayenko with the Gürzenich Orchester Köln. In Promenade III, the contrabass pushed the HA-FW01's wood diaphragms almost to their limit, stressing the deep low bass. This resulted in a somewhat gravelly tone on bowed strings, though I never heard any distortion when playing at comfortable listening levels. This same stress was evident in The Great Gate of Kiev, with the timpani, bass and deep brass overwhelming the lower end of the sound spectrum. However, the HA-FW01 really shined on The Old Castle, delivering an open, spacious soundstage. The airy, breathy tones of the wind instruments were natural and transparent, without a touch of coloration to detract from the recording.
Of course, I had to check out "I'm So Fancy" by Jason Dev. This song truly showcased the performance of JVC's earphones, with beautiful separation of the vocals and precise imaging, especially in the second verse. While bass extension on this track seemed a bit restrained, it did have a solid punch and impact.
Conclusion
JVC's HA-FW01 provides a balanced sound with very pleasant treble and an open, spacious soundstage. While deep bass performance could have been cleaner on tracks that are known to push the limits of headphone drivers, JVC's in-ear headphones performed admirably on the rest of the tracks that I auditioned. The HA-FW01 might be fancy, but it's also a solid, reliable choice.
Specs
Type: in-ear
Driver: 11mm
Impedance: 16 ohms
Weight: 0.49 ounces
Price: $329.95
Company Info
JVC
jvc.com