JVC DLA-X590R D-ILA Projector Review
PRICE
$3,995
AT A GLANCE
Plus
Impressive blacks
Wide color gamut
Crisp, natural detail
Minus
Not native 4K
No automated lens cover
THE VERDICT
We'd like to see JVC offer a true 4K design, rather than a pixel-shifted one, at a consumer-friendly price. But you'll forget about all of that after your first two minutes viewing this outstanding projector—with either a 2K or a 4K source.
True native 4K projectors (those that deliver full UHD resolution to the screen with no reliance on pixel-shifting) are thin on the ground when it comes to prices that most home theater fans are likely to consider. As I write this, only Sony offers one model for as little as $5,000, the VPL-VW285ES. To keep costs in line, JVC uses a pixel-shifting technique employing three 1920 x 1080 "Full HD" D-ILA imagers. (D-ILA is the company's version of liquid crystal on silicon, or LCOS.) JVC offers three pixel-shifting 4K projectors in the Procision line, ranging in price from the $3,995 DLA-X590R, reviewed here, to the $7,995 DLA-X990R.
JVC's current version of e-shift is e-shift5, the fifth generation of the technology. It's said to analyze all of the pixels in the original 4K source, to retain superior sharpness and detail. E-shift is on by default with any input, but it can be turned off with an input of 1080i or 1080p.
On the face of it, the e-shift technique seems kludgy. But it works, and works amazingly well, helped by the fact that the difference between 2K and true 4K—at normal viewing distances on domestically sized screens—is far less obvious than you might expect. By falling between the two native resolutions, and being arguably closer to true 4K than to 2K, pixel shifting offers more than just a taste of the 4K in the source.
There are actually six e-shift projectors in JVC's current inventory (not counting a special limited-edition model for the 20th anniversary of the company's D-ILA technology). The other three models, in JVC's Reference line, carry model numbers beginning with DLA-RS instead of DLA-X, but they're identical in design and price to the equivalent Procisions. They differ only in that the RS designs are distributed directly to custom installers rather than to consumers.
Features
The DLA-X590R is a close sibling to the pricier DLA-X790R. I refer you to that review for a full description of the features in the X590R, including a more detailed explanation of pixel shifting. To keep this tome from running past Friday, I'll limit the feature discussion here to how the X590R differs from the X790R.

It's not a long list. The X590R offers the same two HDCP 2.2compliant inputs (which can each accept a full 18-gigabit-per-second bandwidth), the same excellent, backlit remote control, and full 3D capability—though the external 3D synchro emitter ($99) and the 3D glasses ($179/each) are pricey, extra-cost options. (My several-years-old JVC transmitter and glasses worked fine with the X590R, so if you're a veteran JVC owner looking to upgrade, you should be good with your older 3D accessories.)
Like that of the X790R, the lens of the X590R is fully powered and offers lens memories, but it doesn't have a powered lens cover. Also, this projector has fewer picture modes and doesn't offer either a THX picture mode for standard dynamic range (SDR) or a BT.2020 color profile. But I didn't find any of these to be significant limitations. The X590R does have both auto and manual iris modes.
The SDR gamma adjustments are only marginally less flexible than those of the X790R, but they still offer custom values from 1.8 to 2.6 and the same fine-tuning adjustments (Picture Tone, Dark Level, and Bright Level).
HD/SDR
The JVC passed both 3:2 HD and MA HD (motion adaptive HD) in our standard HD/SDR video tests, but it failed 2:2 HD (a not terribly uncommon result with other displays). The projector won't accept a native 480i input, which makes our standard-definition tests irrelevant. It passed both luma and chroma resolution but clipped both above white and below black in the Auto (default) setting of the Input Level control. It did, however, extend just enough below black to allow for accurate setting of the Brightness control. The JVC will fully display below black and above white in the Enhanced setting of the Input Level control, but the correct setting of the Brightness controls in Enhanced dropped to –16 (from zero in Auto) and offered no visible picture benefits. I stayed with Auto for this review.
Even out of the box, the projector looked good. JVC rates the lamp life at 4,500 hours in the Low lamp mode, though I suspect the obsessed videophile will want to replace it at well under 2,000 hours, particularly for maintaining peak brightness with high dynamic range (HDR) content. If you do replace a still functioning lamp for this reason, keep it for a useful emergency spare. But remember that a new lamp will also call for a new calibration following its break-in period.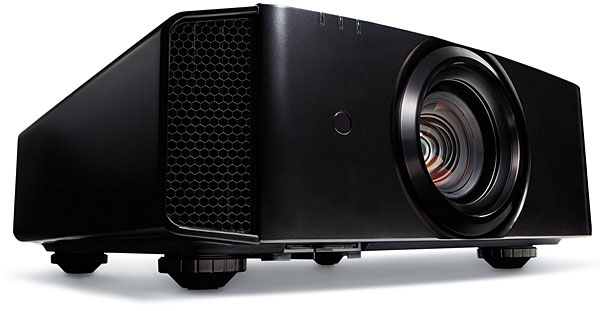 On my 96-inch-wide, 2.35:1 Stewart Filmscreen StudioTek 130 screen (gain 1.3), with the iris set to manual in its maximum setting and the lamp on High, the peak white level measured 61 foot-lamberts—after I had racked up 100 hours for a pre-calibration break-in! This was far too high for SDR, of course; I turned the lamp to Low and the manual iris to –13 or –14, dropping the peak brightness down to a still more than generous 25 to 27 ft-L on my screen.
Oddly, neither of the two Auto iris modes made any visible change to the peak brightness or black levels relative to the Manual setting. I stayed with manual mode throughout the review for both HDR and SDR. During those first 100 hours, I watched a broad range of material, including widescreen black-and-white movies from my dwindling collection of standard-definition DVDs. One, Two, Three (an underappreciated Billy Wilder comedy starring a brilliant, manic James Cagney in his final lead role) and Sink the Bismarck! reminded me that, once upon a time, Cinemascope movies were sometimes shot in black-and-white. Despite the limited resolution of 480i DVD (upconverted in my Blu-ray player, since the JVC won't accept native 480i directly), these discs looked nearly as good as the images I see in my sad, local multiplexes. Ditto for the DVD of Byron Haskin's 1953 version of The War of the Worlds.
Soon, though, I moved on to HD. The best Blu-rays looked outstanding on the JVC both before and after I did a full color calibration. Victoria & Abdul looked glorious. The vivid colors in the royal court (particularly the early banquet scene) and the intricate details in the production design were exceptionally clean, crisp, and dynamic. I preferred to leave the e-shift5 feature off with this and other non-4K films, as I had in my review of the DLA-X790R. E-shift subtly softens HD sources, though it looks superb with Ultra HD 4K.