Juke Multiroom Streaming Amplifier Review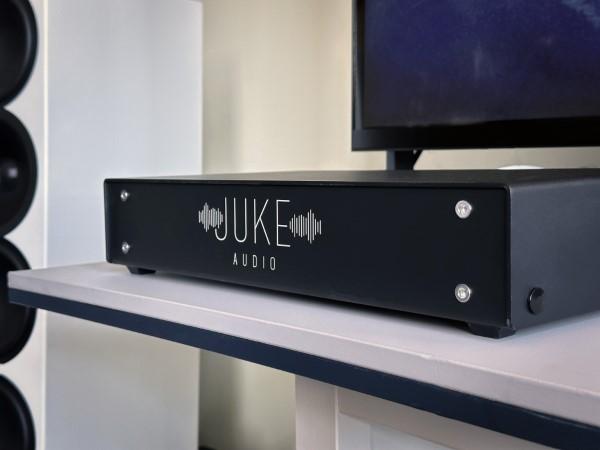 PRICE
$1,349 (Juke-6) / $1,499 (Juke-8)
AT A GLANCE
Plus
Plug-and-play upgrade
Simple and reliable
Low cost per zone
Expandable
Minus
Only 20 watts RMS per channel
No EQ
THE VERDICT
The Juke is a simple, affordable way to retrofit an existing multiroom wired architectural speaker system, or power a new one. It provides high-quality sound and is easy to use.
Multiroom streaming audio is a fun and affordable way to upgrade your home. Juke Audio's six-zone or eight-zone (12- or 16-channel) smart amplifier is a quick, easy, and reasonably priced way to get started. Leveraging AirPlay/AirPlay2 and Spotify Connect, it communicates directly with a wide array of supported apps.
Features and Specifications
Juke Audio amps come in two configurations: a six-zone model ($1,349) and an eight-zone model ($1,499), with the only difference being the number of active channels. Both models have identical hardware, and the limitation is due to a software restriction. Upgrading from six to eight zones costs $325.
The 15x8x3-inch (WxDxH), 6-pound chassis features a minimalist "black box" design with a large logo on the front. The Juke supports up to four concurrent stereo inputs, with its Class D amplification offering up to 95% efficiency. Its high efficiency ensures cool operation without ventilation slots, grills, or fans.
Compatible with impedances as low as 2 ohms, the device can connect multiple 8-ohm speakers—up to three per channel—in parallel. Each channel provides 20 watts RMS power output. While not intended for concert-level sound or reference systems, an eight-channel Juke can accommodate up to 48 speakers. Up to ten Jukes can work together within a system, supporting a total of 480 speakers.
Speaker connectors are Euroblock/Phoenix style and accommodate wire between 12 and 22 gauge. Wiring it up is easy and secure, especially if you use an electric screwdriver.
Juke is not confined to wireless streaming. It has two USB ports for optional wired streaming or two stereo line-level sources. The catch: it takes up one of the four input zones. Juke systems can expand with more units, which group together, appearing as one device on the network.
Setup and Hands-On
The Juke's setup is refreshingly clear and concise, requiring only a single sheet of instructions. After connecting to the network you configure settings through a user-friendly, password protected Administrator Settings webpage. For iOS devices, go to juke.local; for PC/Mac or Android devices you enter the IP address.
The package includes a removable power cord, four Phoenix connectors for up to 12-gauge wire, and a short Ethernet cable (Ethernet is recommended for reliability). Rack ears are available as an add-on.
I live in an urban Loft, which is one large space, meaning I have no need for multiroom audio. But what I do have is a lot of speakers! Namely, eight identical Arendal 1961 Towers, so I connected those to the Juke all at once.
In use, the Juke proves to be plenty competent. Aside from modest power output, I found nothing to complain about, aside from a lack of EQ. Of course, I wish I could have tested the Juke with configurations that more closely reflect its purpose. But, what I asked it to do is more challenging than just providing background music: I asked it to play the part of a decent 2-channel amplifier.
The Juke will happily drive a pair of tower speakers—full-range—and as long as you don't push it into clipping, it sounds great. I set up a pair of the 1961s as I would for critical listening with any dedicated amp, in an equilateral triangle with the main listening position. I sat in the sweet spot, played some well-produced tunes, and experienced the full effect of proper stereo imaging, expansive soundstage, solid bass, smooth midrange, and detailed treble.
With Mixed Up by The Cure streaming via Tidal, the Juke's amps easily reproduced the music's layers, with a nice and tight feel to the bass and sparkle to the synths, demonstrating how the amp retains control of the speaker drivers. It's high-fidelity sound.
The Juke will even do justice to difficult female vocals. Remember Enya? I played "Orinoco Flow" and "Storms of Africa" from Watermark it took me back to 1988, back when I'd skip class in high school to spend the day at the local high-end audio dealer and he'd crank it through a Krell/Apogee system. Well, Enya's voice and the care put into the recording still hold up.
While listening in stereo is fun and elegant proof the Juke sounds good, you can keep adding speakers to it and the Juke keeps on trucking! I wound up wiring all the speakers I have on hand—adding a pair of GoldenEar towers and Klipsch bookshelf speakers to all the Arendals for a grand total of 16 speakers divided into eight stereo pairs! And then I cranked it, playing the same source on all channels; it was reasonably loud and undeniably clear.
Conclusion
Once it's up and running, the Juke essentially behaves like an extension of your phone. And notably, this is not something you need to buy from a custom installer, it's available to buy directly on Amazon, Crutchfield, etc. and it is super simple to set up.
Ideal for homes with wired distributed audio systems, Juke's streaming amplifier provides an affordable, efficient solution for multiroom audio streaming using Class D amplification. It delivers on its promises at a reasonable price, serving as a slim rack-mount solution in the streaming amplifier market.
For more information and full specifications, check out jukeaudio.com