JL Audio Fathom f113 Subwoofer At A Glance & Ratings
AT A Glance: JL Audio Fathom f113 Subwoofer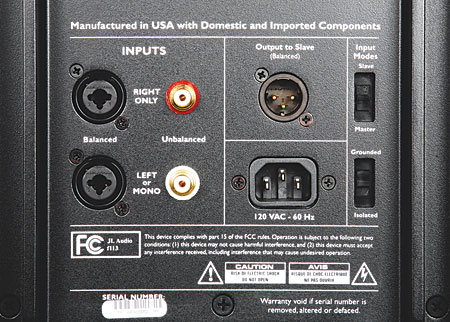 Subwoofer: Fathom f113
Connections: Line-level, RCA, XLR, or 0.25-inch TRS
Enclosure Type: Sealed
Woofer (size in inches, type): 13.5, mineral-filled polypropylene cone
Power Rating (watts): 2,500 RMS
Crossover Bypass: Yes
Dimensions (H x W x D, inches): 19.5 x 16.5 x 19.75
Weight (pounds): 130
Price: $3,300 (Black Gloss); $3,200 (Black Satin)
These listings are based on the manufacturer's stated specs; the HT Labs box below indicates the gear's performance on our test bench.
Ratings: JL Audio Fathom f113 Subwoofer
Build Quality: 98
• Has a thick, heavy, well-braced, sealed enclosure
• Driver sits in tough cast-aluminum-alloy basket
Value: 95
• Design includes numerous patented technologies
• Room equalization is worth paying more for when it works like this
Features: 99
• Monstrous 2,500-watt amp; unique 13.5-inch driver
• Room EQ tames room-induced bass bloat
Performance: 97
• Deep low-frequency extension
• Clean attack with virtually no overhang
• Dynamically powerful in all situations
Ergonomics: 90
• Controls on the front make for easy tweaks
• Room EQ is a nearly idiot-proof, one-button process
Overall Rating: 96
Like a master chocolatier perfecting his fondue fountain, JL Audio brings the zeal of a specialist to the problems of sub design. Unique manufacturing techniques and the always useful advantage of room EQ help this sub earn its four-figure price tag (and then some).
General Information
Fathom f113 Subwoofer, $3,200 to $3,300
JL Audio
(954) 443-1100
www.jlaudio.com