Jerry Maguire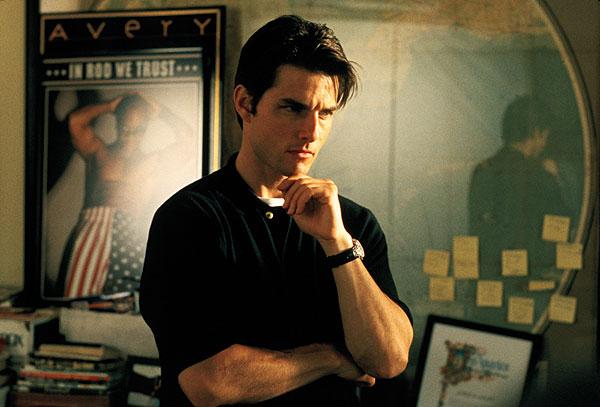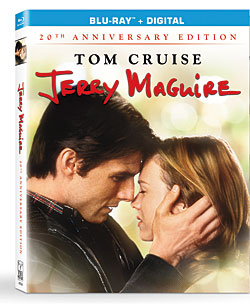 This may be Cruise's best performance: complex, charming, steadily self-aware, and secure. (He would have won the Oscar for Best Actor that year, but for Geoffrey Rush's freak-show spins in Shine.) Renée Zellweger, as his devoted assistant-turned-lover-then-reject-then-wife, plumbs subtle depths in what could have been a gooey role. Cuba Gooding, Jr., who did win an Oscar for Best Supporting Actor, is a comic wonder as a frantic, ego-stroking football player who's Jerry's last remaining client (and chance for redemption). Gooding's recitals of "Show me the money!" and "The Ambassador of Quan" wound up—unexpectedly, Crowe says—as the movie's signature lines.
This 20th Anniversary Edition Blu-ray Disc, re-mastered from a 4K scan of the original camera negative, has a rich, textured look, with natural colors, depth, and at times an almost 3D vividity. Far superior to the 1996 Special Edition DVD, it's marred only by occasional fuzziness and a hint of edge-enhancement. ("Marred" is too harsh a word: They're not distracting, but merely keep my Picture rating at 4 stars instead of 41/2 or 5.) The football scenes are graphic, but the most gorgeous shot—beautifully lit by Janusz Kaminsky—may be the one of Zellweger running through a garden to her first date with Cruise, then the two of them standing in a post of tentative flirtation under the streetlight.
The 90 minutes of special features are a mixed bag. Deleted and expanded scenes show only that Crowe made the right choices for the final cut. The P-in-P commentary track, with Crowe and the three stars, is fun but only spottily enlightening.
Blu-Ray
Studio: Sony, 1996
Aspect Ratio: 1.85:1
Audio Format: DTS-HD Master 5.1
Length: 138 mins.
MPAA Rating: R
Director: Cameron Crowe
Starring: Tom Cruise, Renée Zellweger, Cuba Gooding, Jr.
Jerry Maguire is the middle work in writer-director Cameron Crowe's trio of deeply pleasurable movies, flanked by Say Anything and Almost Famous (after which…what happened, man?), and it holds up very well. Tom Cruise plays the title character, a callow sports agent, incapable of alone time or failure, who suffers a brief bout of conscience, bats out a moral manifesto, and loses his job, along with all but one of his clients, as a result. As Crowe explains on the commentary track, it was co-producer James Brooks who came up with the idea of starting the movie where most rom-coms end (selfish go-getter has his wee-hours epiphany), then following our anti-hero's glide to the bottom before carving a new path of success that enshrines intimacy and commitment as well as ambition. It sounds corny, but Crowe and his ensemble cast (at the time all unknowns, except Cruise) pull it off.