Transformers—Dreamworks Pictures (Blu-ray)
Video: 5/5
Audio: 5/5
Extras: 4.5/5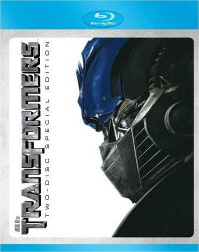 When their epic struggle comes to Earth, all that stands between the Decepticons and ultimate power is a clue held by young Sam Witwicky. Unaware that he is mankind's last chance for survival, Sam and Bumblebee, his robot disguised as a car, are in a heart-pounding race against an enemy unlike anything anyone has seen before.
Never in a million years would I have believed that we'd see a big budget Hollywood adaptation of the cartoon Transformers. I grew up with this cartoon and looking back at it now it was a cool concept but a bit on the cheesy side. But Michael Bay has delivered an embarrassingly fun summer blockbuster with some of the best special effects work Industrial Light and Magic have ever produced. With a ton of former cartoons now being setup for their Hollywood debut; stand by for this line of films to take over the crowded comic book adaptation trend.
This is the second HD presentation of Transformers and this new Blu-ray is every bit as good as the previous HD DVD release and even takes it up a notch. Reference presentations don't get much better than this. The HD image sets the bar for high resolution and dimensionality with vivid color rendition and stunning contrast performance. The image never lets up on detail regardless of the length of shot and there is a constant sense of looking through a window with the outstanding depth of the razor sharp imagery. The special effects never look hokey and blend in perfectly with the live action. Fine film grain is preserved beautifully and intensifies the action sequences in typical Michael Bay style. Fans of high contrast, sensationally detailed crystal clear imagery need not look further.
Michael Bay films are known for their killer action soundtracks and this is by far the best he's delivered yet. The sheer intensity of the dynamics and the overwhelming use of the surround soundstage will make this a demonstration disc for years to come. The sound design of this film begs for a high quality release and the new Dolby TrueHD 5.1 mix delivers just that. You are thrown right into the action and will feel it to your core as the intense infrasonics of this mix test your subwoofer's (and your wall's) might. This is one of those rare mixes that just gets everything right. The action is balanced perfectly with the film's dialogue and nothing is ever drowned out, even in the most intense moments of the film. The sound design is one of the most inventive out there in terms of spatial effects. You'll hear rockets and laser fire from all sides and some great panning effects as things go by you and literally over you. It doesn't get much funner than this.
This two-disc set is loaded with custom features including full use of the Bonus View and BD-Live features of the Blu-ray format. Feature commentaries, production documentaries, trailers and story to screen features are abundant and for the more advanced users you can take advantage of the picture-in-picture features with trivia, interviews and more. For the BD-Live enabled take a look at your favorite "robot in disguise" or share your favorite scenes with your friends. This disc has the fans covered.
Few discs live up to the term "reference" but this disc personifies it. You won't find a better A/V experience on Blu-ray and with cutting edge features and lots of robot mayhem this one is a must-own.
LATEST VIDEO