The Girl Who Played With Fire—Music Box Films (Blu-ray)
Video: 3.5/5
Audio: 3/5
Extras: 1/5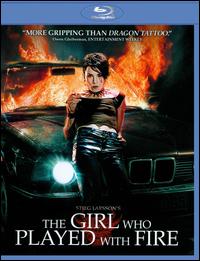 In "The Girl Who Played With Fire" - the second installment in the "Millennium" trilogy following "The Girl With The Dragon Tattoo" - Mikael Blomkvist is about to run a story that will expose an extensive sex trafficking operation between Eastern Europe and Sweden, implicating well-known and highly placed members of Swedish society. On the eve of publication, the two investigating reporters are murdered and the fingerprints found on the murder weapon belong to Lisbeth Salander.
The first film in the Millenium trilogy featured a breathtaking video transfer with rich contrast and detail. Unfortunately the follow-ups weren't shot as feature films but instead as TV movies for Sweden. Thankfully the productions are still pleasing and in line with the better made-for-TV fare we typically see from bigger networks like HBO and Showtime. But the photography and video presentation isn't on the same level as the first film. Detail isn't nearly as crisp, despite the open 1.78:1 aspect ratio. You also have a more muted color palette and slightly elevated black level. On its own this still looks fine, but compared to the beauty of the first film it falls a bit short. Music Box once again limits the audio experience to lossy Dolby Digital 5.1 instead of the more current lossless audio formats. The sound design is good here, but again falls short of the original. The 5.1 mix is still involving though with plenty of surround activity and a fair share of dynamics. I'm hoping these films are revisited either here in the states or abroad with full lossless mixes at some point.
Unfortunately the only extra included is the theatrical trailer along with a trailer for the upcoming third installment, The Girl Who Kicked the Hornet's Nest.
The Millenium Trilogy has turned out to be a great cinematic treat and this second installment is just as gripping as the first. While the presentation isn't quiet up to par with the first film, this is still a must see for fans. Recommended.
LATEST VIDEO