The Core
Aaron Eckhart, Hilary Swank, Delroy Lindo, Stanley Tucci, D.J. Qualls, Richard Jenkins, Tchécky Karyo, Bruce Greenwood, Alfre Woodard. Directed by Jon Amiel. Aspect ratio: 2.35:1 (anamorphic). Dolby Digital 5.1, 2.0 (English, French). 134 minutes. 2003. Paramount Home Video 860233. PG-13. $29.99.
Picture***
Sound***
Film* 1/2
Occasionally, even the finest actor gets involved in a movie that, afterward, they'd prefer to leave off their résumé. The Core boasts an A-list budget and A-list actors, yet even the most charitable critic would be hard-pressed to rate it higher than a D–. Wed preposterously bad pseudo-science to a wooden screenplay and cardboard characters, and you get a creative disaster of blockbuster proportions. The Core is a cataclysmic bore.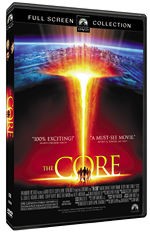 Don't get me wrong—I love movies pockmarked by scenes of widespread carnage just as much as the next red-blooded American male filmgoer, but The Core manages to make even the imminent destruction of Earth seem about as involving as the latest sandstorm on Mars. Even the special effects don't cut it. The destruction of Rome's best-known tourist landmarks elicit as much shock and awe as a second-grader's pillow fight. One shot of a lightning bolt carving a neat furrow down the center of a Roman street rings especially hollow.
The competent DVD transfer only highlights The Core's cinematic failings. Edges aren't overly enhanced, and shadow areas have adequate detail. Swirls of fake magma possess that nice fiery-orange glow, and the endless arrays of cockpit computer displays dazzle with cornucopias of multicolored idiot lights. The sound, too, holds up its end. The clichéd dialog is all too easy to understand, and the explosions are sufficiently loud and boomy. Crazed birds flying into glass windows are the sonic highlights. In the words of Nick Lowe, "I love the sound of breaking glass." The extras include several short features about the movie's creation and special effects, a passel of deleted scenes, and director Jon Amiel's lame commentary.
If you're thinking of buying this DVD, rent it first. While you're at it, get a another movie as well—you'll quickly discover that The Core is about as satisfying as week-old popcorn. The second film may rescue your evening from being as disastrous as the catastrophe The Core purports to avoid.—SS