The Alec Guinness Collection
The Man in the White Suit
The Lavender Hill Mob
The Ladykillers
(Aspect ratio: 1.66:1. Color.)
Kind Hearts and Coronets
The Captain's Paradise
All: Except as noted: Aspect ratio: 4:3. B&W. Mono. Anchor Bay Entertainment. NR. $69.98.
Picture ***
Sound ***
Film ****
This wonderful collection of five comic jewels starring Alec Guinness helps illustrate why he's still considered one of the world's most versatile and respected actors. Known as the Ealing Comedies, these films offer examples of British humor at its best—sly, subversive, subtle.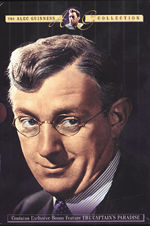 In Kind Hearts and Coronets, Dennis Price is the nominal lead, playing a disinherited Edwardian aristocrat determined to kill all who stand between him and his title. But Guinness steals the show with his impersonations of eight different victims, including an old lady. This stylish, scathing caricature of British aristocracy is delightfully unsentimental when it comes to murder, as one eccentric old-timer after another is wiped out in chillingly entertaining ways by the debonair, ambitious aristocrat.
The Man in the White Suit features Guinness as an irrepressible scientist who faces an uphill battle to convince investors of the value of his invention—an indestructible fabric that actually repels dirt—and then must contend with the desires of both management and labor to destroy it. This satire of capitalist folly and corporate stupidity also pays tribute to individualism and progress, both of which are untoppable. A pungent social comedy.
In The Ladykillers—an ironic title if there's ever been one—Guinness is the leader of a gang of bumbling criminals who masquerade as a string quartet as they prepare for a heist in a room rented from an endearing old lady. When she discovers their true goal, the men decide to kill her but can't go through with it. This black comedy is as delightful as it is perverse, and the fact that a feeble, innocent old lady proves more resilient than a whole band of hoodlums is a stroke of genius.
The Lavender Hill Mob is another tasty morsel. Guinness and a group of good-natured crooks rob the gold reserves of the Bank of England, only to lose their precious cargo, which is hidden in cheap Eiffel Tower souvenirs. This ironic, sizzling heist comedy gives the lowly "working man" the advantage in his match of wits with the establishment, but gives the fickle finger of fate the final gesture.
Finally, in The Captain's Paradise, Guinness plays a ship captain whose bigamous life is his version of perfect happiness: one devoted, homemaking wife offers peace and stability, while the other, fun-loving and sexy, provides excitement and adventure. But the Captain's universe is shattered when each woman starts craving precisely the component missing from her own life.
Anchor Bay has done a superb job of mastering all these films from flawless original negatives. The black-and-white images are nuanced and rich, while the color is natural and vibrant. The images are razor-sharp, with unfailing focus, and the sound is powerful mono. The perfect gift.—DY
LATEST VIDEO