Tangled 3D—Walt Disney Pictures
Video: 5/5
Audio: 4.5/5
Extras: 5/5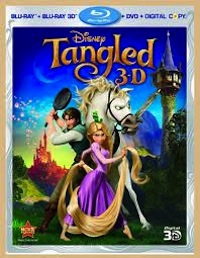 When the kingdom's most wanted - and most charming - bandit Flynn Rider hides in a mysterious tower, the last thing he expects to find is Rapunzel, a spirited teen with an unlikely superpower - 70 feet of magical golden hair! Together, the unlikely duo sets off on a fantastic journey filled with surprising heroes, laughter and suspense.
The 3D Blu-ray set includes both a 3D version and 2D version of the film on separate discs. Both are reference quality and some of the best animation Disney has produced yet. The 3D version is the best 3D I've seen on the format to date, short of Avatar. The sense of dimensionality in the characters and environments makes for a subtle yet effective 3D world. There are no gimmicks here, but the depth is staggering. The 2D image is also reference quality and offers just about as much dimensionality and depth as the 3D version. Colors are vibrant without going overboard and I loved the contrast and shadow detail the transfer provides. This is some of the best animation I've seen on Blu-ray and offers some fantastic showcase pieces in both 3D and 2D. The DTS-HD Master Audio mix is presented in 7.1 for both versions and is a lot of fun. While not quite as bombastic as some other animation films, Tangled still has some great song pieces and action. Dynamic range is quite good and bass response goes down pretty low in some of the more exciting sequences. The surround soundstage is almost constantly alive with some great directional cues, panning effects and ambiance. The voice work is perfect for the characters and the blend of dialogue is seamless with the animation. You'd be hard pressed to find a better animated presentation.
The 3D Tangled release is packed to the gills with features and more. You get both the 2D and 3D version of the film plus a DVD copy and a digital copy for portable devices! On top of that you get some deleted scenes, a look at the production and some storybook openings for the film. You also get a pretty cool countdown feature that talks about Disney making their 50th animated feature. Cast and crew interviews are also included and some interactive features for the kids.
Tangled is one of the best Disney films in years with a terrific story and animation. It reminds me more of the great Disney films of the early nineties like The Lion King and Beauty and the Beast. The 3D Blu-ray is one of the best 3D releases on the format so far and a must own for anyone with 3D playback capabilities. Highly recommended.