Stranger than Fiction—Sony Pictures (Blu-ray)
Video: 4
Audio: 4
Extras: 4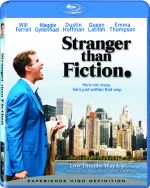 Okay, I admit it. I like Will Ferrell. His movies are almost always funny and entertaining, from the recent Blades of Glory, to Anchorman: The Legend of Ron Burgundy, and back to his evil turn as Mugatu in Zoolander. Some are also surprisingly sweet and touching. (If you haven't seen Elf, go rent it.) Ferrell's honest and genuine acting allows him to connect to characters and audiences with ease.
Stranger than Fiction is his Truman Show. It's not your typical Will Ferrell movie. He plays an IRS agent who goes about his life the same way each day. There's no over-the-top-character humor, just an exceptional performance by an actor showing his range. All the performances are wonderful and do a great job complementing the script and directing.
The 1.85:1 transfer is better than most Blu-ray transfers I've seen. The detail is nice and sharp, but there's still some noise in some shots. The uncompressed PCM 5.1 audio track covers the dynamic spectrum well, not blowing you away at the loud sections or causing you to miss any whispered dialogue. There's also a Dolby Digital 5.1 track. A good number of special features are included on the disc. While there's only one deleted scene and one extended scene, a plethora of featurettes will keep you occupied.
If you missed this in the theater, it's definitely something you should pick up.