Scott Pilgrim Vs. The World—Universal (Blu-ray)
Video: 4.5/5
Audio: 4.5/5
Extras: 4.5/5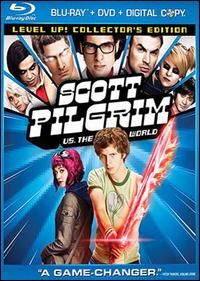 Scott Pilgrim has never had a problem getting a girlfriend. It's getting rid of them that proves difficult. From the girl who kicked his heart's ass - and now is back in town - to the teenage distraction he's trying to shake when Ramona rollerblades into his world, love hasn't been easy. He soon discovers, however, his new crush has the most unusual baggage of all: a nefarious league of exes controls her love life and will do whatever it takes to eliminate him as a suitor. As Scott gets closer to Ramona, he must face an increasingly vicious rogues' gallery from her past - from infamous skateboarders to vegan rock stars and fearsome identical twins. And if he hopes to win his true love, he must vanquish them all before it really is game over.
Universal does this Blu-ray proud with a great looking HD transfer. Fine object detail is excellent and the image has a great sense of depth and dimension. Colors stay true to the theatrical presentation with just a touch of stylization and a somewhat muted palette. Some shots can look a tad soft at times with the mixture of special effects and low light, but this was hardly a distraction. The soundtrack is a robust mix of onscreen action and pulsing rock tunes. I loved the surround soundscape and immersive mix. Low-end extension is pretty extreme at times. Sidewall imaging is also impressive with nice panning from front to rear in several sequences. You'd be hard pressed to find a more creative soundtrack.
Universal delivers a pretty extensive special edition for this one complete with a DVD and digital copy of the film. You also get Universal's U-Control features that offer a picture-in-picture feature with interviews and behind the scenes footage. The real gems are the standard supplements though which really push home the theme of the film and get you involved. They include some themed animation features, making of features and lots of behind the scenes stuff. You also get some alternate footage and music videos.
This was one of the most fun films I saw this summer and would be the perfect double feature compliment to Kick Ass. Universal serves up an outstanding Blu-ray package for it making it one of my highest recommendations of the year!
LATEST VIDEO