Integration for homes big and small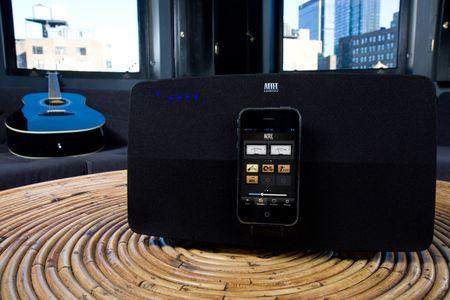 Altec Lansing's newly announced Octiv 650 iPhone/iPod Touch dock makes your mobile companion the centerpiece of your living room. Available this May (for $199.95), the device adds composite and component video outputs to the typical dock stereo-speaker-plus-mini-sub offerings, in case you're interested in watching streaming video from your iOS device on your TV. The accompanying Music Mood app includes a thoughtfully curated set of bearskin rug-friendly video and audio loops, including a crackling fire, a babbling brook, and the like. The app's retro VU meters get you in the mood, while a remote control means you won't have to get up and wander over to your iPod to flip over the record. Or change the incense. Or whatever.

If your system integration needs are a little more complex, you'll be happy to hear that ThinkFlood has updated it's RedEye line of networked remote control products. The original RedEye (a remote interface that receives commands over Wi-Fi from an iOS app or your PC, and translates them for your infrared-speaking TV, cable box, disc player, or whatever else) has gotten an update (the gen2 model will set you back $199) and with an IR output, so you can run a remote IR flasher to control equipment tucked away out of sight in a rack.


For really big projects, the new RedEye Pro expands on the concept to control your whole house, giving you remote control via IR, contact closure sensors, and RS-232 over pretty much anything you might want to manage: home theater systems, HVAC, lighting, sump pumps, animatronic holiday decorations-the possibilities are endless. Hooking this up requires a visit to a custom installer, who'll also be able to price out a system for you.
- Michael Berk