Insignia IS-PDVD10 Portable DVD Player
It folds open like open like a book, but there's no literacy required.
Summertime for many of you means travel time. And let's face it, folks—long plane flights can be a dreary hell. A good book helps, and, if you can sleep, that's the best way to kill time, unless of course drink carts and people headed to the bathroom keep bumping your shoulder every five minutes. But a portable DVD player can really help the time pass, and perhaps even help you forget about the tight space you're packed into.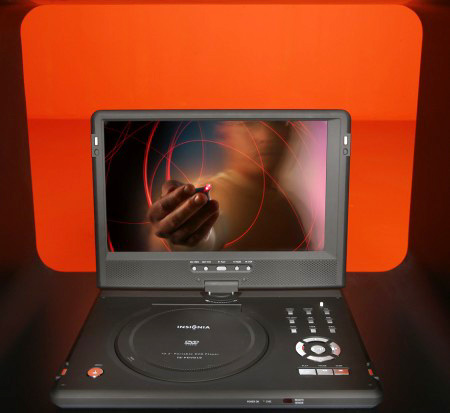 Now I don't mean to insinuate that plane flights are the only use you'll get out of a portable DVD player. It may help keep the kids occupied in the back seat. (A car power adaptor is supplied.) It could come in handy when you're exercising in a room without a TV.
When shopping for electronics, a lot of people avoid brand names they don't recognize. And most people haven't heard of Insignia, a new electronics brand sold exclusively through Best Buy. I had the chance to test out their new IS-PDVD10 portable DVD player, which has a 10.2-inch screen and retails for $280. Well, I am here to testify that it is a really good-quality product, and it is cheaper than a lot of the units with 9-inch screens that bigger-name manufacturers produce—in some cases, by quite a bit.
Performance and Design
The video quality is excellent for a portable DVD player. The image is very smooth. Sure, there is some very slight graininess that I mainly noticed on older movies like The Good, the Bad and the Ugly and The Petrified Forest—a graininess that I don't see when I watch these films on my TV. Such video noise was easy to ignore and often hard to notice. More importantly, I have seen pricier portable DVD players that exhibit more grain that is harder to ignore.
I did have to increase the brightness level a bit to improve the overall image and improve the detail in shadows and dark scenes. I only increased it a little so as not to wash out the picture, and this rendered detail in blacks decently but not perfectly.

Before I raised the color adjustment, the colors were very flat. I had to increase the level quite a bit for colors to look right. With the very colorful Once Upon a Time in Mexico, the image (with the color raised) looked vibrant as it should, though the colors may not have been quite as rich as they can be. But they still looked very nice. And any graininess here was extremely difficult to detect. Overall detail was also totally respectable for a portable DVD player. The same held true on Spider-Man 2. Color and brightness are the only two picture adjustments the player has, aside from aspect-ratio options.
The sound was generally good out of my Audio-Technica headphones, with a warm, soft, bassy quality that made good use of my headphones' ability to handle low frequencies well. Trebly sounds did at times strike me as a tad tinny. The IS-PDVD10 has a wealth of audio options and adjustments—I might even say too many than are necessary, but that is hardly a complaint. I don't really go for the "3-D" audio effects that a lot of these players offer—out of two headphones, it's just distracting. Otherwise, there's definitely enough here to keep those who are finicky about their audio happy.
The Insignia seems to be very sturdy, in spite of its fairly light weight. It's made of a strong black plastic that doesn't easily scuff and has a slim, svelte form factor. Metal operating buttons sit on the right side of the player's body, and you pop open the disc lid on the left to insert a DVD.
The screen attaches to the body at one central joint. You can swivel the screen clockwise from this joint, which is useful when two people are sharing the player. (There are two headphone outputs.) Rotating the screen a full 180 degrees (it snaps into place) gives the player a clean look, with just the screen in your field of view. (See the picture below) The most practical use of this feature is for fitting the device on an airline tray table after the fat load in front of you leans his seat all the way back. Additional, repeated controls (play, pause, stop, and track advance/retreat) sit just underneath the screen and are intended for this setup. A long speaker also sits along the bottom of the screen. It sounds pretty bad, but what do you expect from a portable DVD player's built-in speaker? You can understand dialogue and hear music fine through it.
It's Alive!
The IS-PDVD10's battery attaches securely to the bottom of the unit in the back, creating a slight incline when it's sitting flat. The manual makes two different battery-life claims: In one spot, it says three hours of continuous play; in another spot, it claims 2.5 hours. The fact is that there is no definitive way to measure this, because pausing play, stopping, fast-forwarding, rewinding, and using other functions drain battery life faster. I measured the battery life myself, playing two DVDs back to back without operating any other controls. Playback lasted for three hours and 45 minutes. The manual was being modest!
Still, while it's totally common for portable-DVD-player batteries to last for less time than this, three hours and 45 minutes sits just under and important cusp. If you have two two-hour movies, you won't make it to the end of the second. From Insignia's point of view, a bigger battery would probably have made the player too clunky, and part of the product's appeal is its attractively slim, convenient design. So, what are your options? You can get an external battery; some of these have a claimed running life of as much as six hours. Also, increasingly, airlines are including wall-socket or DC power inputs with their seats. And, when you're on the road, there's the aforementioned car adapter.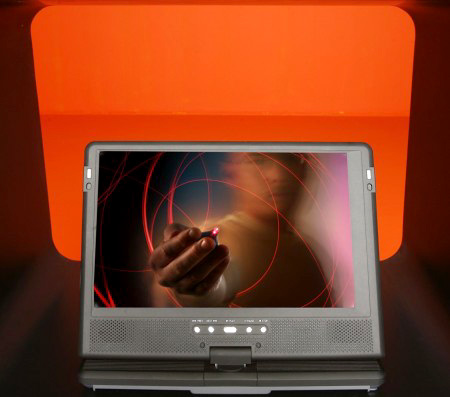 You can also plug the Insignia player into a TV and have it serve as a regular DVD player. You'll need the remote control to set up the player for this. There is a composite output and a coaxial output. There's also an included cable that splits into three RCA connectors, and I plugged it from the player's composite output to my TV. Unfortunately, I was unable to get a video transmission. I could hear the audio, but my screen was black. I tested the connection on my TV with other equipment to make sure the problem wasn't with the TV's input. The input was fine. Hopefully, the problem was just with the cable, which would be easy to replace.
Should You Buy One?
For a portable DVD player with a 10-inch screen, $280 for the IS-PDVD10 is a great price. And its performance is excellent. While the battery life is good compared to many other portable DVD players, it would still be nice if this one lasted a little bit longer. Short battery life is my biggest complaint against portable DVD players, but there are ways around this. Plus, the unit's slim packaging looks like it could probably withstand some abuse—kind of like the abuse that you undergo when crammed into that small airplane seat.
Screen size: 10.2 inches
Compatibility: DVD, DVD+R/+RW, DVD-R/-RW, CD, CD-R/-RW, MP3, Photo CD
Frequency Response: +/-1 db from 20 Hz-20 kHz
Power Output: 20 watts
Dimensions (H x W x D in inches): 8 x 10.25 x 1.18
Weight (pounds): 3.31
Connections:
AV Out
Coaxial
AV In
DC Out (5V)
Headphone outputs

$280
Insignia Products