Inside Out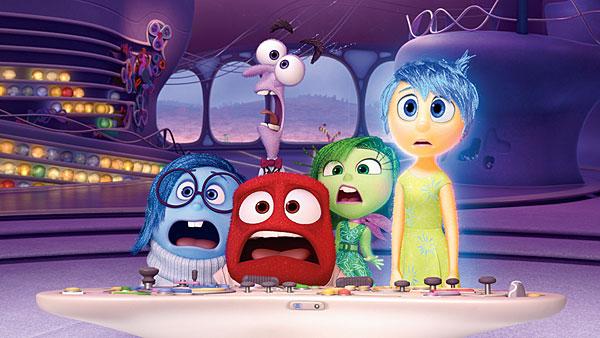 Once again, writer/director Pete Docter has crafted a tale that entertains the youngest viewers while also challenging even the smartest adults in the room. The underlying psychology is brilliantly laid out, allowing us to explore the relationship between emotions, memories, and personality. Dialogue is deliciously witty (star Amy Poehler is comedy gold in any medium), and in revealing the delicate balance between happiness and sorrow, the story achieves its greatest poignancy.
The Pixar folks have outdone themselves with the superb animation. Any given scene flaunts texture upon texture upon texture, beginning with the quintet of colorful sprites. The perpetually bubbly Joy seems to be made of, well, bubbles that sometimes leave a faint trail and a glow around her, unmarred by any sort of artifacting. The detail is so fine and so breathtaking, it absolutely must not be watched at less than 1080p. The cinematography displays a keen appreciation for 3D, as characters are often positioned in front of monitors or find themselves peering through windows at intricate environments in the distance. The illusion of depth is masterfully conveyed and even played with, as when a group takes a shortcut through the wacky realm of abstract thought. There are sprawling virtual locations that awe us, but even the subtle placement of Riley's hockey mask an inch or two above her face is painstakingly rendered.
That sense of spaciousness also comes from an outstanding DTS-HD Master Audio 7.1 soundtrack, although upon startup the movie curiously defaults to DTS-HD High Resolution 5.1, so be prepared to switch over. The inside-the-head and outside-the-head worlds are represented with distinct styles, and listen how the levels change as the narrative employs shifting perspectives. There's a pleasing resonance throughout the soundfield even when there are no discrete surround effects, and the sharp clink and clank of memory orbs showcase the sonic transparency. The five emotional voices might overlap, but each is always decipherable.
The exemplary video quality in both versions owes much to the high bitrate, and as such the extras on the Blu-ray 3D are limited to Lava, the charming musical short that accompanied Inside Out theatrically. The 2D Blu-ray has its own bonus content lineup, notably an audio commentary by Docter and co-director Ronnie Del Carmen, the Riley's First Date? follow-up short, and a few featurettes. But there's an entire second Blu-ray just for supplements: more behind-the scenes vignettes (one with sound designer extraordinaire Ren Klyce), deleted scenes with director introductions, and some trailers, including a bizarre offering from Japan. This Ultimate Collector's Edition is bundled with a DVD (with Lava and the feature commentary) plus a Disney Movies Anywhere Digital Copy with plenty of cloud-based bonuses.
The only downside of Inside Out on this Blu-ray 3D is the challenge of wiping away the occasional tear when you're wearing two pairs of glasses.
Blu-ray 3D
Studio: Disney, 2015
Aspect Ratio: 1.78:1
Audio Format: DTS-HD Master Audio 7.1
Length: 95 mins.
MPAA Rating: PG
Director: Pete Docter
Starring: Amy Poehler, Phyllis Smith, Richard Kind
Growing up is tough enough for any eleven-year-old, but when Riley finds out that her family is moving, her idyllic life is turned upside down. She must now contend with a new house, a new school, and a host of new feelings. Fortunately, the five main emotions that share control of her mind—Joy, Sadness, Disgust, Fear, and Anger—are at the ready. But when partners Joy and Sadness find themselves cut off from headquarters, confused little Riley's situation quickly goes from bad to worse.