Lilo & Stitch
Voices of Daveigh Chase, Tia Carrere, Ving Rhames, David Ogden Stiers, Jason Scott Lee, Zoe Caldwell, Kevin McDonald, Kevin Michael Richardson. Directed by Chris Sanders, Dean DeBlois. Aspect ratio: 1.66:1. Dolby Digital 5.1 (English), Dolby Surround 2.0 (French, Spanish). 85 minutes. 2002. Walt Disney Home Video 00596. PG. $29.99.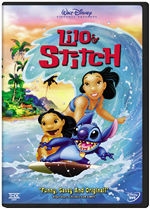 Experiment 626, a destructive creature produced by a mad alien scientist, has escaped from his home planet and landed on Earth—not just anywhere on Earth, but on Hawaii. He ends up in a local animal shelter and, after terrorizing the other residents there, is adopted by Lilo, a lonely little girl who lives with her older sister, Nani. Stitch's antisocial programming makes a mess of Lilo and Nani's home and lives, but despite this, Lilo becomes increasingly fond of her new "dog." Things spiral out of hand when a local social worker disapproves of Lilo's living arrangements. They get even more complicated when aliens show up to retrieve Stitch.
The material may seem unpromising, but Lilo & Stitch is a true original, as different as can be from Disney's earlier, mainly hand-drawn animated features, and a delight from beginning to end. Based on the trailers I'd seen, which put the emphasis on "cute," I was prepared to be disappointed by the sort of film that would interest a six-year-old but bore a grownup. Cute Stitch is, but it's much more. It's part science-fiction, part fairytale, part fantasy; throw in a generous helping of gentle humor and you have an animated feature that will delight youngsters and keep adults more than entertained. The PG rating is earned by some rather tame sci-fi violence and some odd-looking aliens, but there's nothing scarier than what you'll find in Monsters, Inc.
The animation is first-rate, if a bit unusual. For the first time in decades, Disney artists chose to make extensive use of watercolors for the background animation. They gave all the characters a rounded look, unlike the extreme angularity seen in the company's last cel-animated feature, Atlantis: The Lost Empire. The colors are bright and vivid. While the images, not surprisingly, look 2-dimensional compared with recent computer-animated features and even next to Disney's most ambitious recent conventional animation (e.g., Tarzan), it's still an eyeful, and it all comes through beautifully on the DVD. It's hard to imagine how the clean, crisp, detailed picture could look much better.
The sound is also first-rate, if not really spectacular. There's a little rumbling bass, but not much, and the surrounds wake up only occasionally. Still, it all sounds very clean and natural. The music is particularly notable, not only for composer Alan Silvestri's atmospheric score and some nicely recorded work by the Kamehameha School Children's Chorus, but also for the Elvis Presley songs that pepper the soundtrack. Lilo, we learn, is a big Elvis fan, a plot device that leads to some hilarious scenes.
This single-disc release contains extensive extras, including such kid-friendly features as Hula Lesson, DisneyPedia: Hawaii—The Islands of Aloha, and Creating Your Own Alien Experiment Game. Other features include deleted scenes, InterSTITCHals (teaser trailers and a featurette showing how Stitch has tried to break into other Disney films over the years, including Snow White), music videos, and several "Making of" shorts.
My only complaint is about the usual Disney annoyance: too many forced trailers at the beginning of the disc, in this case a record-breaking 11, many of them for upcoming direct-to-video features. Disney, this is getting out of control. Please put this stuff in the extras section and don't force us to wade through it every time we want to play the movie. (To skip them and get to the main menu, push the skip forward button 12 times, or fumble with the title search.)
This DVD might get lost in the shuffle, appearing in the shadow of Disney's other big fall animated DVD releases, Monsters, Inc. and Beauty and the Beast. Don't let that happen. If you love good animation, you'll love Lilo & Stitch.
LATEST VIDEO