Leatherheads—Universal (Blu-ray)
Video: 4.5/5
Audio: 4.25/5
Extras: 2.5/5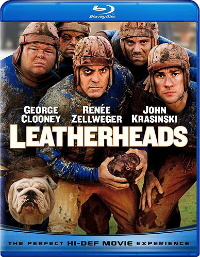 Dodge Connelly is a brash and handsome gridiron giant who is equally comfortable leading his team in a barroom brawl or charging for a touchdown in a packed stadium. But when Connelly's team loses their sponsor and the entire league appears set to collapse, the quick-thinking jock attempts a creative late-game comeback. If Connelly can convince former college football star and decorated war hero Carter Rutherford to join the team, there may be hope for the ill-fated team after all.
I wanted to check this one out during its theatrical run but didn't get the chance. I'm a big fan of Clooney's films and this one looked to be funny and a bit in the tone of Oh Brother, Where Art Thou?. Unfortunately the film was a bit of a dud. While funny at times, it seemed to struggle with what it wanted to be. The photography was great, but the pacing and story just didn't enthrall despite the great cast.
The HD presentation is a great looking one with impressive detail and contrast. The image is exceptionally dimensional and has an outstanding sense of depth. Fine object detail is up there with the best I've seen and the stark contrast ratio lends a lot to the look. Colors are slightly muted and bathed in an amber tone and set the mood and time period of the film well. Some of the CG doesn't blend as well as you'd hope but I found it rarely distracting.
The DTS-HD Master Audio mix is open but not overly aggressive. At near reference level you do get a nice sense of atmosphere and the surrounds deliver a cohesive soundstage. Dialogue is always balanced perfectly within the mix and timbre is dead on. Dynamics are good but the track doesn't journey too much into the lower range.
Universal has included a picture-in-picture video commentary with Clooney and producer Grant Heslov, and audio commentary with the pair is also included.
I was really hoping to like this one but the film just fell short. Universal has still done a great job with the presentation though making it a great fit for fans of the film.
LATEST VIDEO