Kill Bill Vol. 1 and 2—Miramax (Blu-ray)
Video: 5/5
Audio: 5/5
Extras: 2.5/5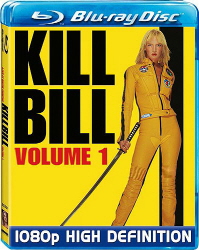 Four years after taking a bullet in the head at her own wedding, The Bride emerges from a coma and decides it's time for payback... with a vengeance! Having been gunned down by her former boss and his deadly squad of international assassins, it's a kill-or-be-killed fight she didn't start but is determined to finish!
Without a doubt these films represent Tarantino's masterpieces of cinema. I've seen both films too many times to count now and they never fail to entertain on just about every level. The quality of filmmaking here is staggering and both volumes boast incredible visual style, art direction and story. These have been long sought after on Blu-ray and were some of the early titles shown when Buena Vista announced its support for the format. Thankfully we can finally enjoy them now.
Both films feature reference quality HD presentations. The HD transfers are sourced from digital IPs and show a staggering amount of detail and clarity. The range of video is also outstanding with stunning black and white footage, incredible animation and vivid photography. There is so much range to the visual style that it is hard to find any fault here. Contrast levels are incredible and the fine object detail displayed in the black and white sequences is nearly without equal. Colors have so much pop and clarity that at times you almost feel like you're seeing a Technicolor nightmare come to life. Both are stunning examples of what Blu-ray can deliver and easily some of the best HD video available today.
The uncompressed PCM soundtracks are also a testament to the level of detail Tarantino put into this opus. Few films showcase this level of dynamic range and sound design. The entire soundstage displays incredible range and nuance with outstanding use of the surrounds and deep detailed bass. The film's soundtrack is almost a lesson in cool and plays to the mood of the film with pure brilliance. Honestly, it doesn't get much better than this.
Both films feature production featurettes that give an insight into the making of the film complete with interviews and on set footage. Volume 1 also contains some additional music sequences along with a slew of trailers for some of Tarantino's gems. Volume 2 contains a deleted scene along with an extra musical performance.
These films have been a long time coming on Blu-ray and Miramax has done an exquisite job with the presentations. Few films have looked or sounded this good. A must own collection that gets my highest recommendation.
LATEST VIDEO