Ip Man 2: Legend of the Grandmaster—Well Go USA
Video: 4/5
Audio: 4/5
Extras: 3.5/5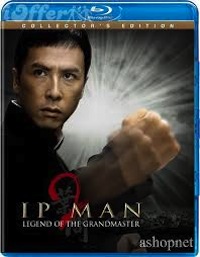 During the Sino-Japanese War, Ip Man protected the dignity of Chinese by his wushu (martial art). As he had beaten the Japanese army and angered them, he had to escape. After the war, his family lived in Fashan and experienced hardship. Ip moved his family to Hong Kong to start a new page in 1949. Ip Man began teaching Wing Chun in Hong Kong. A young man, Wong Leung, gathered a few of his boxing friends and asked Ip to be their master. Ip had his first group of students.
Ip Man 2 looks considerably better than the first installment of this series on Blu-ray. While the last film had good fine detail and resolution, it also suffered from obvious motion artifacts and compression. This transfer doesn't seem to have any of the same issues. While I saw some very light moiré patterns in some of the early opening sequences that involve some animation, video artifacts were pretty much non-existent. Fine object detail is excellent and depth of image is strong. Colors are very natural in tone and saturation and black levels are good. The soundtrack is presented in both Chinese and English 5.1 DTS-HD Master Audio options. I stuck with the original language track, which was good but the dialogue dubbing could have been better. I notice this with a lot of the films coming out of Hong Kong. The action sequences have plenty of rich surround activity and decent low end extension, but the sound design is a bit simplistic.
The collector's edition has an array of supplements, some of which you'll find on the Blu-ray but most you'll find on the DVD. There is a behind the scenes feature on the Blu-ray that gives insight into the making of the film and contains interviews and on set footage. The DVD has more interviews, break downs of the production and art galleries. Some trailers are also included.
This is a different type of film from the first one. This one doesn't seem to be as personal in its portrayal of Ip Man and seems more of a film to cash in on the popularity of the original. Yen is still incredible in the role though and showcases his abilities to the fullest. Worth a rental.
LATEST VIDEO