Harry Potter and the Chamber of Secrets
Daniel Radcliffe, Rupert Grint, Emma Watson, Kenneth Branagh, John Cleese, Robbie Coltrane, Warwick Davis, Richard Griffiths, Richard Harris, Jason Isaacs, Alan Rickman, Fiona Shaw, Maggie Smith, Julie Walters. Directed by Chris Columbus. Aspect ratio: 2.35 (anamorphic). Dolby Digital 5.1 EX (English, Spanish). Two discs. 161 minutes. 2002. Warner Home Video 23592. PG. $29.95.
Picture *** 1/2
Sound ****
Film *** 1/2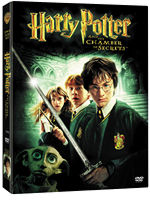 The first film in the Harry Potter series, Harry Potter and the Sorcerer's Stone, was weighed down with the need to provide background details about the hero, Harry Potter, his friends, and their situation at Hogwarts School of Witchcraft and Wizardry. British author J.K. Rowling's books, on which the films are based, have been wildly popular worldwide with adults as well as their intended audience of children, but filmmakers risk losing a big slice of their potential audience by assuming they've read the novel. Think David Lynch's Dune.
With the second movie, however, we're free to jump right in (neophytes can catch up by viewing the DVD of the first film). Harry Potter and the Chamber of Secrets begins with our young protagonists starting their second year at Hogwarts. A lot has happened in the interim. Harry has been badly treated during the summer, as usual, by his muggle (i.e., non-wizard) guardians. Hogwarts has hired a new lecturer, the lovably self-absorbed dandy, Gilderoy Lockhart (played by Kenneth Branagh, who nearly steals the film). And puberty has arrived, judging from the changed voices of most of the younger leads, including Harry (Daniel Radcliffe), his best friend, Ron Weasley (Rupert Grint), and a nasty, jealous fellow student, Draco Malfoy (Tom Felton). By the time the last of the planned seven books is filmed, they'll be the professors!
With a plot involving an evil force (not surprisingly, we suspect early on that it's Harry Potter's nemesis, the evil wizard Voldemort) that's trying to "purify" Hogwarts' wizard output by hunting down muggle-born students, Chamber of Secrets is much darker than Sorcerer's Stone, with sequences that will be a little scary for the under-eight crowd —thus the PG rating. Nevertheless, it's a fun ride for both the young set and older audiences as well. While almost too long at 2 hours and 40 minutes, it moves quickly; from all reports, no parents were reported fidgeting in their seats or disturbing their children and others in the audience by running randomly up and down the theater aisles in the film's final hour.
From the evidence of the premium theatrical print I saw in Westwood, California, the photography itself was very good if slightly short of the very best. The film was shot in Super 35, a 2.35:1 process that rarely produces images as sharp as those possible from full anamorphic Panavision. The video transfer is a good reflection of that. It's a little soft in places (less so in close-ups), but only those viewers with the biggest screens are likely to complain. Colors are rich, shadow detail good, noise and grain insignificant. Separate widescreen and full-frame releases are available; be sure to get the one you want.
The audio is outstanding. The transfer is Dolby Digital 5.1 EX, a fact not mentioned on the jacket, the inner sleeve holding the set's two discs, or even in the press release we received. I auditioned it in standard 5.1 mode, and was nevertheless still impressed by the dynamic range, the detailed, open sound, and, in particular, the super-active surrounds.
The two discs contain a feast of extras, many of them aimed at those under 12. I'll touch only on the features older viewers might enjoy. Disc 1 contains the cast and crew list, theatrical trailer, and a feature we might call "Previously at Hogwarts." It sort of brings the new viewer up-to-date, but is probably intended primarily as a promotion for the DVD of Sorcerer's Stone.
Most of the good stuff is on disc 2. There are 19 additional scenes, some interesting, many superfluous. Under "Behind Hogwarts" is an interview with J.K. Rowling and screenwriter Steven Kloves. Other subheadings under "Behind Hogwarts" offer a gallery of production sketches and interviews with members of the cast.
Best of all, hiding under the "Build a Scene" subheading of "Dumbledore's Office" is a first-rate "Making of" feature on all aspects of the production. It was worth searching for. But even without the extra features, Harry Potter and the Chamber of Secrets is a DVD you'll want to check out.—TJN