Despicable Me—Universal (Blu-ray)
Video: 4.5/5
Audio: 4/5
Extras: 4/5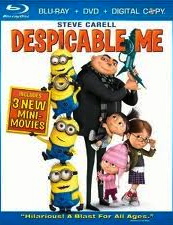 Vying for the title of "World's Greatest Villain", Gru - along with his hilarious crew of mischievous minions - plots to pull off the craziest crime of the century: steal the moon! But when Gru enlists the help of three little girls, they see something in him nobody else has ever seen: the perfect dad.
Universal does a great job with this CG animated hit. While the animation is solid in its own right, it doesn't quite measure up to the bar set by Pixar and Dreamworks animation. While the overall dimensionality and colors are strong, the character animation can be a bit simplistic at times. Still, this is a great looking Blu-ray with rich color, detail and depth. I didn't see any issues with banding or compression and there is plenty of rich eye candy on display. Some of the sequences can look a tad soft from time to time, but this has more to do with the production design than the presentation. The DTS-HD Master Audio soundtrack is also quite fun with inventive sound design and plenty of great surround effects. Dynamic range is solid, though not quite as compelling as the best reference discs out there.
Universal includes some great extras for this one. The set includes not only the Blu-ray but also a digital copy of the film for your portable device and a DVD. The Blu-ray also includes three great shorts starring the Minions that are all pretty funny. The rest of the extras cover the production and also include some fun games and recipes.
While fun, Despicable Me didn't win me over as much as some of the more popular CG animated films out there. The Blu-ray does deliver a solid presentation though and the extras are a lot of fun. While I'm not so sure the adults will fall in love with this one, the kids will certainly enjoy it.
LATEST VIDEO