Despicable Me 3D—Universal (Blu-ray)
3D Video: 4/5
Audio: 4/5
Extras: 4/5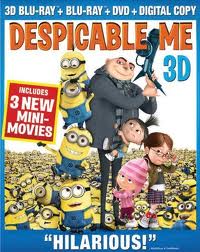 Vying for the title of "World's Greatest Villain", Gru - along with his hilarious crew of mischievous minions - plots to pull off the craziest crime of the century: steal the moon! But when Gru enlists the help of three little girls, they see something in him nobody else has ever seen: the perfect dad.
So far this is the only 3D Blu-ray that has been a bit troublesome with playback. While the image has plenty of punch in contrast and rich color, it has ghosting issues that are prevalent throughout the movie. I have over a dozen other titles in 3D and none exhibit anywhere close to the amount of ghosting problems I see with this disc. I even checked it on a few other 3D displays with the same results. While this doesn't make the film unwatchable, it can be a distraction in an otherwise solid HD presentation. The DTS-HD Master Audio soundtrack is also quite fun with inventive sound design and plenty of great surround effects. Dynamic range is solid, though not quite as compelling as the best reference discs out there.
Universal includes some great extras for this one. The set includes not only the Blu-ray but also a digital copy of the film for your portable device and a DVD. The Blu-ray also includes three great shorts starring the Minions that are all pretty funny. The rest of the extras cover the production and also include some fun games and recipes. I was a bit disappointed that Universal didn't include the 3 new shorts in 3D as well.
As far as 3D goes, this has been the only movie that has exhibited some issues creating a bit more of a distraction than necessary. Hopefully we won't see more issues like this with further titles. While still a fun film, I found the 2D version to be the more satisfying of the presentations on Blu-ray.