Dead & Buried—Blue Underground (Blu-ray)
Video: 2.5/5
Audio: 3/5
Extras: 3.5/5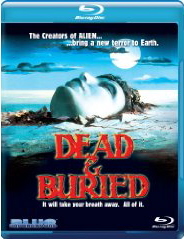 Something very strange is happening in the quiet coastal village of Potters Bluff, where tourists and transients are warmly welcomed... then brutally murdered. But even more shocking is when these slain strangers suddenly reappear as normal, friendly citizens around town. Now the local sheriff and an eccentric mortician must uncover the horrific secret of a community where some terrifying traditions are alive and well... and no one is ever really DEAD & BURIED.
This is actually the first time I had ever heard of this film despite the rather high profile talent involved. From special visual effects by make-up maestro Stan Winston to the writer of the prolific sci-fi classic Alien. The film is about a small coastal town that sees a high number of murders from a group of local townspeople. While the sheriff investigates he stumbles upon a bizarre situation in that the townspeople seem to be made up of a lot of missing or dead people who miraculously are living again. The film is moody but not particularly scary and has a very dated feel to it. Still, if you're a fan of the genre this one would almost be a cult classic considering the talent involved.
The HD presentation is alright for the most part but does suffer from a limited production and an aging element. The image is quite noisy most of the time which encroaches on fine detail and dimension. Depth of image is strong though and the aged color balance still holds up pretty well. I did notice some compression artifacts from time to time, despite the higher average bitrate.
The audio is presented in 7.1 with the option for either DTS-HD Master Audio or Dolby TrueHD. The presentation also has a dated feel and the new surround mix doesn't really do much to help it out. Fidelity is lacking and the timbre is a bit bright overall. Dialogue sounds natural enough but poor ADR shows from time to time. Surrounds do a decent job with the material but this isn't a dynamic mix and the most you get is some subtle ambiance.
Extras include three separate audio commentaries ranging from the director, some cast members and even the cinematographer. You also get a look at the late Stan Winston's VFX work for the film. Features on actor Robert Englund (who has a small part in the film) and writer Dan O'Bannon are also included along with the trailers.
While an interesting mix of talent put this one together ultimately it was passable horror entertainment. I liked the themes but the film has a very dated feel and not much atmosphere. Fans will be pleased with the presentation though.
LATEST VIDEO